A Retired Nurse's Story About Wake Up On Time...Getting Her Up On Time!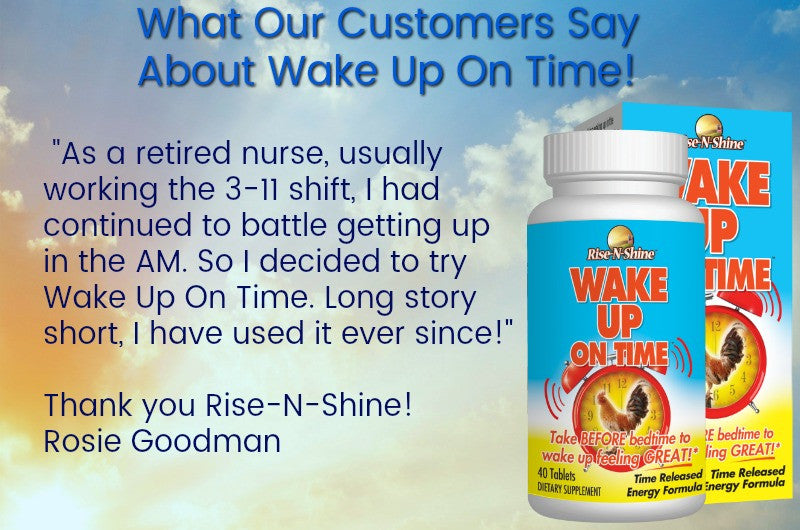 We love to hear from our customers and their feedback about our products. Rosie Goodman is one of those customers, who after learning about Wake Up On Time, swears by it and has used it ever since!
"One day a long time back, I overheard a female voice on the television talking about 'Wake Up On Time,' that she had decided to try the product because she always had a problem getting up in the morning. It worked and she swore by it. 
As a retired nurse, usually working the 3-11 shift, I had continued to battle getting up in the AM. So I decided to try it. Long story short, I have used it ever since! Thank you Rise-N-Shine!"
Wake Up On Time is an all-natural, made in the USA, non GMO, cruelty-free product that it the first of its kind. This energy supplement you take BEFORE bedtime to wake up feeling great! Wake Up On Time's patented, delayed-release tablet delivers the ingredients when they are needed most...before the alarm clock rings!
Customers like Rosie have praised Wake Up On Time for its benefits, calling it "an alarm clock in a pill," the "best invention since coffee," a "replacement for the morning alarm clock" and something that has turned them into "morning people overnight!" 
Wake Up On Time is available for purchase on our website, in Walmart locations nationwide, on Walmart.com, Walgreens.com, Amazon.com, Jet.com and other retailers. 
---