Kylie Jenner BLOCKED From "Rise and Shine" Trademark!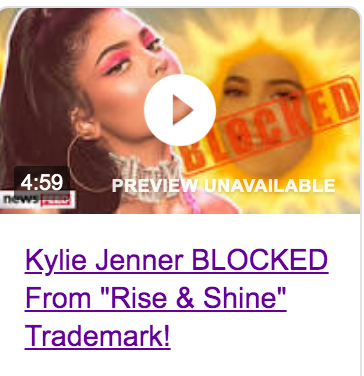 Kylie Jenner is trying to cash in on her viral "Rise and Shine" moment, but she's running into some legal issues along the way. Click on the link below to see the "Clever News" Story.
https://www.youtube.com/watch?v=asDOrgzitUQ
Kylie Jenner is trying to cash in on her viral "Rise and Shine" moment, but she's running into some legal issues along the way.What's up? It's Emile Ennis Jr. here with Clevver News and last week, Kylie filed to trademark her now-famous catchphrase, "Rise and Shine."You know this one, from her office tour video that's now one of my favorite memes of the year.Obviously the internet went crazy for this moment. The hashtag #riseandshine became the fastest ever to hit a billion views on the TikTok.Celebs including Ariana Grande, Miley Cyrus, and Lizzo, also got in on the fun and have recreated the tune and put their own spin on it.And Kylie, being the business woman she is, capitalized on the phrase by launching two "rise and shine" hoodies on her website that sold out almost instantly.So it's no surprise that she's filed to trademark the phrase so she can have it for all eternity and make money off of it for as long as she can.According to the trademark website, Kylie filed for two separate trademarks for both clothing and cosmetics. She also filed for a clothing trademark under "Riiise and Shiiinnee" with some extra I's.And according to the filings, the trademark could cover belts, bottoms, coats, dresses, footwear, gloves, jackets, and more articles of clothing. But now Kylie is running into some serious legal issues with the newfound success of trademarking "Rise and Shine.According to The Blast, a businesswoman and single mother in New Jersey already owns a trademark for the catchphrase.The woman's name is Cathy Beggan and she just came forward, saying she is the rightful owner of a trademark for the catchphrase.Her company Rise-N-Shine LLC is a nutritional supplement, vitamin, and cosmetics company that she established back in 2006.Cathy told The Blast that she has one main issue with Kylie capitalizing on the phrase. She said that Kylie is quote, "already using the phrase, without the legal license or permission to do so and without any offer of compensation."She explained that Kylie is trying to produce products similar to what her company already makes under the same trademark.And Cathy is willing to fight for her trademark and her company.She said quote, "We have never sought to frivolously enforce our trademark - in fact, this will be the first time we have ever attempted to enforce it - but I have to defend my and my company's rights in this case."But she IS willing to be flexible under one condition. She said quote, "If Kylie is willing to sing a jingle for my company, we will consider licensing the phrase to her for use with certain non-competing products, in exchange for a reasonable licensing fee." Well I guess that's sort of women supporting women right? Cathy thinks so!I'd also like to hear from Kylie personally… but it will be interesting to see if Cathy actually does.And even when Kylie originally filed for the trademark, fans had mixed feelings about it online.Twitter was blowing up with reactions.And these tweets do help us see both sides of the trademark battle here. While Kylie is capitalizing off the meme of the moment and being an entrepreneur, this is Cathy's life's work. So I guess we will just have to wait and see how this all plays out. I hope Kylie does sing a jingle for Cathy's company. 
Clever News October 30, 2019 
---