Wake Up On Time and Get Going Without the Grogginess...Naturally!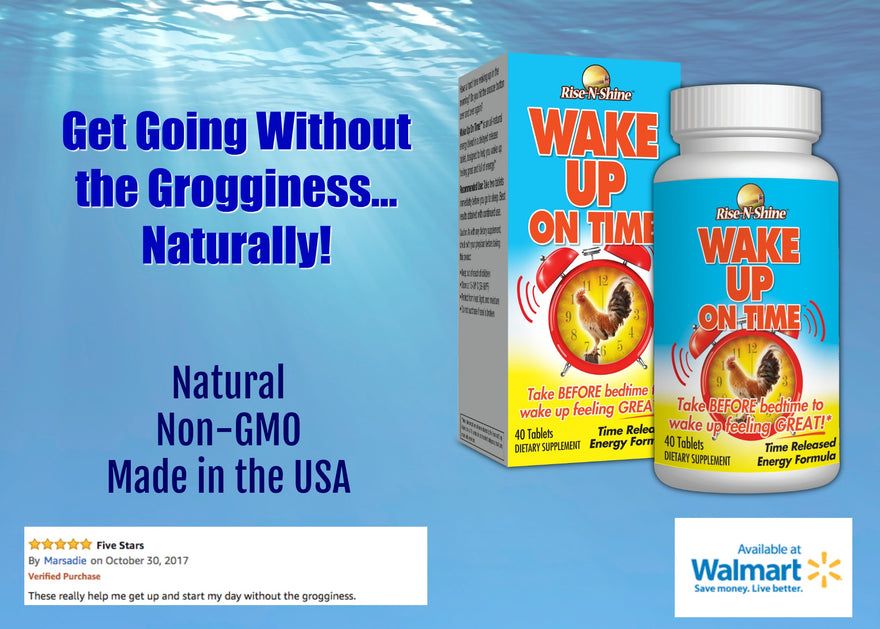 Feel groggy in the mornings with the winter weather? No more! Rise-N-Shine's Wake Up On Time can help you to get going without the grogginess...naturally!
Wake Up On Time fan Marsadie reviewed the natural, non-GMO and made in the USA energy formula and said, "These really help me get up and start my day without the grogginess." 
Patented Wake Up On Time is the first and only product of its kind taken before bed to help you wake up and feel great! The natural energy blend of vitamins, amino acids and herbs helps to deliver energy when it matters most...when the alarm clock rings! The magic of time-release holds back the delivery of the nutrients including Vitamin B6, Vitamin B12, L-Tyrosine, Eleuthero Root Extract, Guarana Seed Extract and more, until the last sleep cycle. That way, your sleep isn't interrupted and you can still wake up with more energy and feeling refreshed. 
Those who swear by Wake Up On Time and give it the five-stars and thumbs up like Marsadie have nicknamed it, "time in a bottle," an "alarm clock in a pill," the "greatest invention since coffee," a "replacement for the morning alarm," and a "miracle" that has helped turn them into "morning people overnight!" 
Click here to learn more about Wake Up On Time and order some today! Wake Up On Time is also available at Walmart stores nationwide!
Take Rise-N-Shine's Wake Up On Time tonight for a better morning tomorrow! 
---