Alarm Clocks Within the Top 10 Graduation Gift Ideas - Give Your Graduate the Gift of an Alarm Clock in a Pill!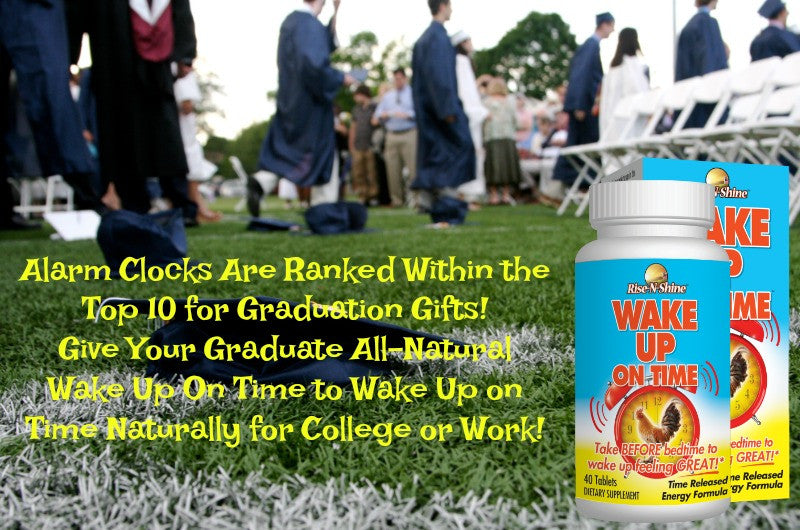 High school and college graduates are entering into new life paths. Either they are continuing on with more schooling, or are heading out into the working world. 
Give them the gift of waking up before their alarm clock with all-natural and made in the USA Wake Up On Time!
Wake Up On Time is different than energy drinks - which many young people indulge in to wake up and stay up - because it contains natural ingredients and no sugars! Think vitamins like B6, B12, Calcium, Thiamin and Riboflavin, along with herbs and amino acids. 
Energy drinks, on the other hand, give a quick jolt and quick letdown, with serious health consequences, from heart to dental issues. The National Institutes of Health reported between 2007 and 2011, there was a significant increase in emergency room visits due to health complications from energy drinks! The largest patient age group was between 18 to 39.
Wake Up On Time, on the other hand, was featured on KCTV5's "Better Kansas City" as a safe alternative for energy drinks. Click below to view the segment about this topic. 
Those who swear by Wake Up On Time as an all-natural alternative to help them wake up in the morning call it an "alarm clock in a pill," "the greatest invention since coffee," a "replacement for the morning alarm," and something that has turned them into "morning people overnight!"
Wake Up On Time is different than other energy supplements in that it is the first pill of its type to be taken BEFORE bed, to help give energy when it's needed the most...before the alarm clock rings. With a delayed-release coating, Wake Up On Time's energy boost takes place after a good night's sleep. 
Wake Up On Time is available for purchase on Rise-N-Shine's website, including our special buy two get one free offer. There are free autoshipping offers to - have Wake Up On Time shipped directly to your college student so it arrives when they need it!
Plus, Wake Up On Time is available at Walmart stores nationwide, on Walmart.com, Walgreens.com and Amazon.com. 
---