Cheers to Easier Mornings With Wake Up On Time!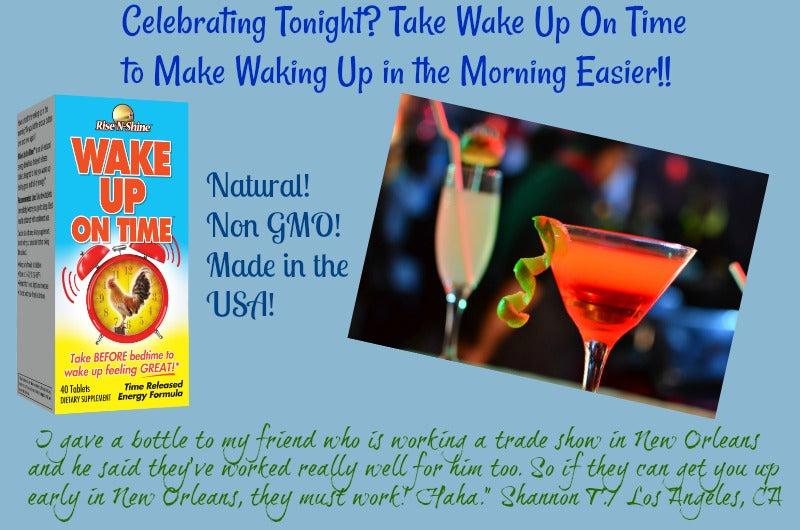 Waking up in the morning can be rough for many of us and especially if we've been out celebrating the night before. But Wake Up On Time fan "Shannon T." from Los Angeles told us that Rise-N-Shine's Wake Up On Time has really helped to give her that energy boost to start her day, even after a night out with friends. 
"A friend of mine told me about your products and while I have not used the Stay Up All-Day supplements yet, the Wake Up On Time really really works. Particularly after a night out of drinking," she wrote.
Wake Up On Time is a natural product, non-GMO, cruelty-free and made in the USA. It contains ingredients that support energy naturally, including Vitamin B6, Vitamin B12, L-Tyrosine, Guarana seed extract and more.
This is the first supplement of its kind taken before bed to help make mornings easier when the alarm clock rings! With the magic of time-release, our delayed-release coating on Wake Up On Time doesn't interrupt sleep. And in the morning, Wake Up On Time delivers a blend of vitamins, amino acids and herbs for a great morning energy boost. 
Those who swear by Wake Up On Time like Shannon have called it an "alarm clock in a pill," the "greatest invention since coffee," a "replacement for the morning alarm clock," like "time in a bottle" and something that has "turned them into morning people overnight!"
In fact, Shannon was so happy with her Wake Up On Time experience, she passed it on to a friend of her's traveling in New Orleans. She tells the rest of the story best.
"I gave a bottle to my friend who is working a trade show in New Orleans and he said they've worked really well for him too. So if they can get you up early in New Orleans, they must work! Haha." 
Looking for that morning boost like Shannon? Wake Up On Time is available nationwide in Walmart stores, on Walmart.com, Walgreens.com, Jet.com, Amazon.com and on our website. Click here to order Wake Up On Time and "cheers" to earlier and easier mornings!
---