Courtney Trades Coffee for Wake Up On Time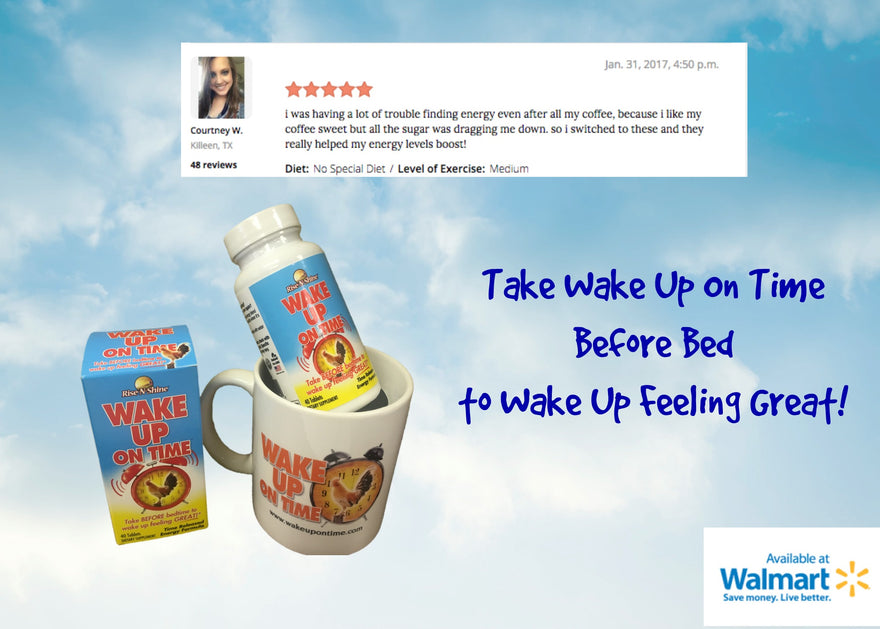 Courtney from Killeen Texas was thrilled to find Wake Up On Time. Coffee had become ineffective in giving her the energy she needed to get through her day. 
"I was having a lot of trouble finding energy even after all my coffee," she wrote, "because I like my coffee sweet but all the sugar was dragging me down."
Wake Up On Time is a one-of-a-kind product. It's the first product of its kind taken before you go to bed to help you wake up feeling great! Patented Wake Up On Time combines a patented energy blend of vitamins, herbs and amino acids, delivered with the magic of time-release. 
It's the time-delayed coating on Wake Up On Time that helps a person to enjoy a good night's rest and then, when their last sleep cycle hits, Wake Up On Time works to wake a person up. Those who swear by it call it an "alarm clock in a pill," the "greatest invention since coffee," a "replacement for the morning alarm clock" and something that has turned them into a "morning person overnight!" 
With taking Wake Up On Time before bed, a person benefits with a head start before their feet even hit the floor. Many who love Wake Up On Time have called it "time in a bottle," because it gives them time back, in segments where they would usually be hitting the snooze button.  
It's also different than coffee, because Wake Up On Time contains natural ingredients that offer a sustaining energy boost. Coffee and caffeine products, on the other hand, will give a person a quick jolt of energy, followed with a crash. These ingredients include: Vitamin B6, Vitamin B12, Guarana Seed Extract, L-Tyrosine, Eleuthero root extract and more. 
For Courtney, her struggle not only involved coffee, but also the sugar she sweetened each cup with. Wake Up On Time was a game changer for her. 
"So I switched to these [Wake Up On Time] and they really helped my energy levels boost!" Courtney exclaimed. 
Wake Up On Time is easy to find at Walmart stores nationwide. It can also be purchased online. Click here to learn more about Wake Up On Time on Rise-N-Shine's website. 
Wake Up On Time is natural, non-GMO and made in the USA. 
---