Enter to Win Rise-N-Shine Products!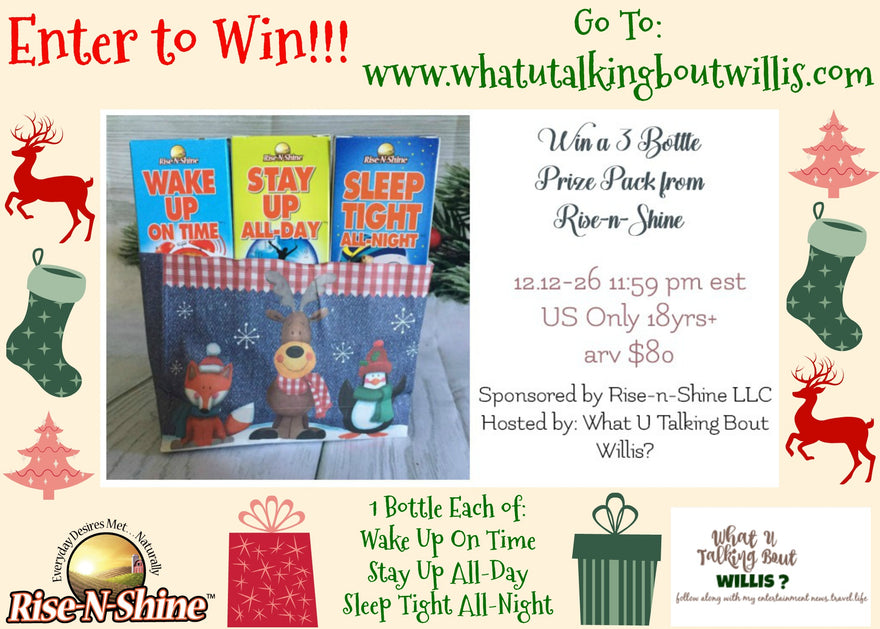 Need some help with waking up, staying up and sleeping tight in the New Year? Why not enter to win Rise-N-Shine's Wake Up On Time, Stay Up All-Day and Sleep Tight All-Night? It makes a great gift for yourself or for someone you know who could use more energy or rest to accomplish all of their 2018 Resolutions!
Rise-N-Shine's product trifecta for energy and sleep is perfect for:
parents
college students
travelers
business people 
and more!
 All Rise-N-Shine products are natural, non-GMO and made in the USA!
You can enter to win these products at the website What U Talking Bout Willis? This site features articles and tips about entertainment, travel and life!
Becky from What U Talking Bout Willis? is a busy mom and grandmother who often finds herself requiring more energy or sleep. She had previously reviewed Wake Up On Time, to help her to wake up in the morning with more energy. Now, she's had a chance to get to know Wake Up On Time's partner products - Stay Up All-Day and Sleep Tight All-Night. Click here for her review of all three products. 
Wake Up On Time is the first and only product of its kind to help you to wake up each morning feeling more refreshed and alert! Those who swear by Wake Up on Time have called it a "miracle" that has helped them turn into "morning people overnight!" Some have coined it "time in a bottle," a "replacement for the morning alarm clock," the "greatest invention since coffee" and an "alarm clock in a pill." For Becky, she discovered as many have that even when she has trouble falling asleep at night, she still wakes up feeling alert and refreshed from Wake Up On Time.
Wake Up On Time is patented with a time-release coating that helps to hold back the ingredients until the last sleep cycle, so your sleep is not interrupted. It's got high-quality nutrients including: Vitamin B6, Vitamin B12, L-Tyrosine, Guarana Seed Extract, Eleuthero Root Extract and more to help make waking up in the mornings easier...naturally!
Stay Up All-Day is Rise-N-Shine's anytime energy supplement, when you need that little boost throughout the day. Becky found that when struggling with the midday case of yawning, she's taken an occasional Stay Up All-Day and found within a half hour it helped her to reclaim her focus! Rise-N-Shine's natural energy blend has given many - like Becky - that boost of energy, without the jitters and without sleeplessness at night. 
Sleep Tight All-Night is another product of Rise-N-Shine's that helped Becky! For her, sleeplessness is the most challenging and something that she's faced most of her adult life. After taking Sleep Tight All-Night on those occasional nights, she's found she's slept soundly and awaken without feeling sluggish. 
Click here to enter to win these three products on What U Talking Bout Willis? now through Dec 26, 2017 at 11:59 p.m. Age 18+ U.S. only.
And for What U Talking Bout Willis? readers - enjoy 50% off of your Rise-N-Shine order - now through January 5, 2018 - use code Willis at checkout. 
---