Get Bikini Vitamins...And Get Your Bikini Ready!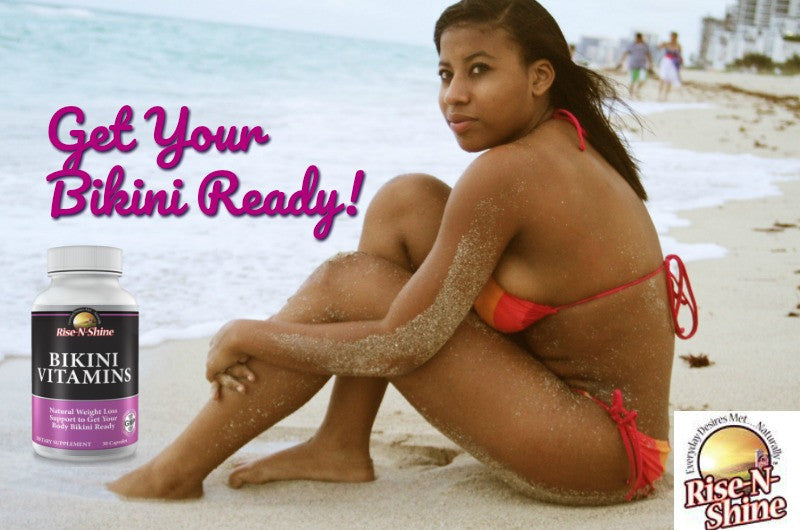 From coast to coast it's time to hit the beach and if you're not feeling quite ready, there's no need to fear...Bikini Vitamins are here! Each capsule of Bikini Vitamins packs a punch to support metabolism and weight loss! With all natural ingredients, including those with thermogenic and energy benefits, plus antioxidants, you'll be ready to meet the waves. 
And what are these ingredients?
Acai Fruit Extract - known for antioxidant and immune boosting properties
Green Tea Extract - also known for its antioxidant benefits
Garcinia Cambogia Fruit Extract - offers metabolism support
Caffeine Anhydrous - supports thermogenesis (heat and energy that is created during the digestion process)
Apple Cider Vinegar Powder - many seek Apple Cider Vinegar for its internal cleansing properties (Rise-N-Shine also offers Apple Cider Vinegar Complex)
Kelp Powder - Kelp boosts health with minerals from the sea, including magnesium, which works in weight maintenance.
Grapefruit Powder - supports weight loss
Get Bikini Vitamins, grab your bikini and head to the beach today!! 
Rise-N-Shine's all-natural, made in the USA products are available for purchase on our website, on Amazon.com and Walmart.com, among online retailers. Wake Up On Time™ is available at over 3,000 Walmart locations nationwide. Stay Up All-Day™ and Sleep Tight All-Night™ are both available in select Walmart locations. 
---