Give Dad the Gift of Wellness This Father's Day!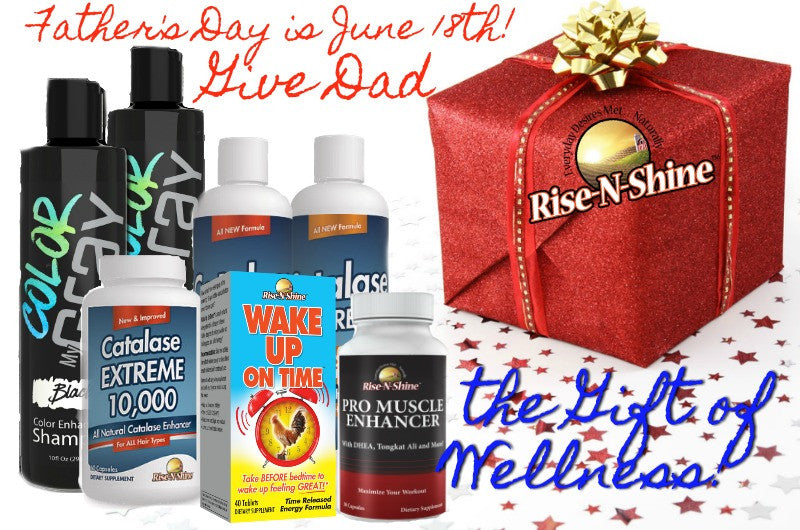 Father's Day is right around the corner on June 18, and Rise-N-Shine has some great gifts that keep on giving to Dad each and every day! Give that special dad in your life the gift of wellness, with our range of nutritional supplements and haircare products to choose from! Rather than a tie that will collect dust with the others on his tie rack, or a food item that is gone in a flash, Dad can use Rise-N-Shine products are thoughtful gifts that dads can enjoy the whole year through!
What are some of the wellness gifts that father's may benefit from and really appreciate? Click on the names of the products to learn more these great gift ideas for Dad!
The Gift of More Time! - Wake Up On Time™ - a patented energy formula taken before bed to benefit dad the most - when the alarm clock rings. This all-natural supplement has been coined by those who swear by it as "a replacement for the morning alarm clock," "the greatest invention since coffee," an "alarm clock in a pill" and something that has turned them into "morning people overnight!" Help dad to break up with his alarm clock and enjoy the gift of a longer day! This product is available on our website and over 3,000 Walmart stores nationwide! It's also been praised as a replacement for energy drinks on a KCTV5 "Better Kansas City" safe foods segment!
The Gift of Overall Hair Benefits! - Catalase Extreme 10,000 - with the highest content of Catalase on the market (10,000 IU) this product is another hit with many dads who turn to it for the hair benefits! Catalase Shampoo and Conditioner - another way for dad to get his dose of Catalase benefits is through our shampoo and conditioner. We also have a 30 Day Starter Set with Catalase Extreme 10,000 and the Catalase Shampoo and Conditioner!
The Gift of Healthy Hair Growth! - Hair U Grow - this product supports healthy hair growth! Hair U Grow Shampoo and Conditioner - like our Catalase Extreme products, Hair U Grow has its own complementary shampoo and conditioner to support hair growth. There is also a 30 Day Starter Set with all three Hair U Grow products!
The Gift of a New Look! - Color My Gray - another favorite among our dad customers is our Color My Gray Shampoo and Conditioner line. This product saves dad money time by avoiding color trips to the salon. It's a plus for dad's health too, since hair dyes can be unhealthy...and our product line is all natural! Color My Gray is a great way for dad to multitask - he can color away his gray hair by shampooing and conditioning - the color deposits in Color My Gray blend color back into his hair with more subtle results (shampooing and conditioning once a week for example with Color My Gray) or more intense results (daily shampooing and conditioning with Color My Gray). The product comes in sets too with both shampoos and conditioners in Black, Brown and Blonde Shampoos and Conditioners!
The Gift of a Trip to the Spa...Without Leaving Home! - Vitamin Facial - Dads can enjoy some pampering from within with Vitamin Facial, which is like a hydrating facial within a liquid capsule with Phytoceramides!
The Gift of Younger Looking Skin! - Wrinkle Remedy - Collagen and antioxidants can help to support Dad's skin with this supplement that can promote younger-looking skin!
The Gift of Thicker Hair! - Vita-Men Hair Formula - Supports thicker hair!
The Gift of a More Effective Workout! - Pro Muscle Enhancer - Help maximize dad's workout with this all natural formula!
---