Global Vitamin Trends - Sales for Nutritional Supplements to Increase Worldwide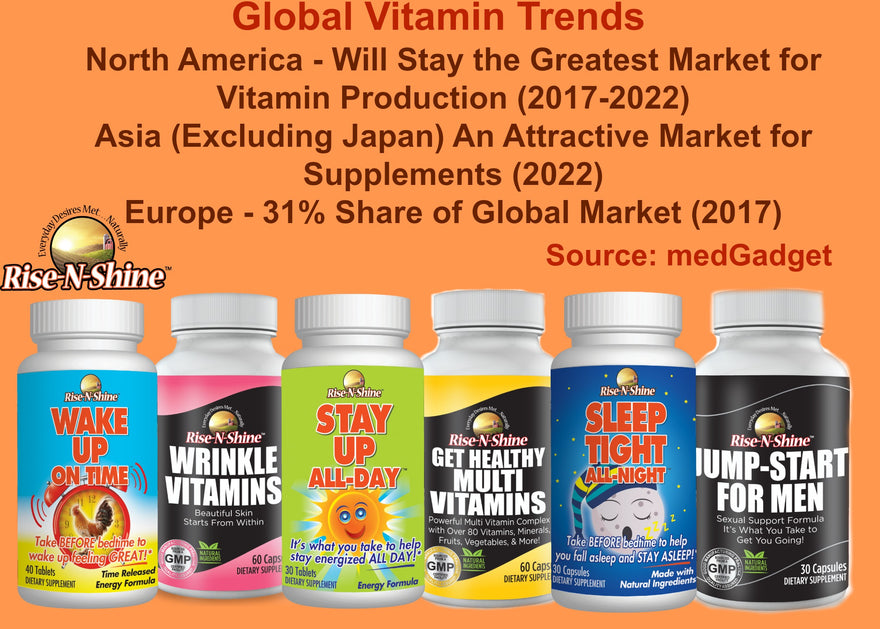 The website medGadget has reported that through 2022, the sales of over the counter (OTC) vitamin and dietary supplements is expected to rise.
medGadget reported on a study conducted by Fact.MR that through 2022 sales for nutritional supplements will rise by 6.7% Compound Annual Growth Rate (CAGR) from 2017 through 2022. During that time period, the CAGR will surpass a value of $97,688 million. 
North America will remain the greatest market for vitamin production between the years of 2017 and 2022. 
Asia Pacific excluding Japan will have a greater footprint over the supplements' industry by 2022. 
Europe will hold 31% of the share of the global market for supplements by the end of 2017. 
Pharmacies will be the top sales channel for OTC vitamin and dietary supplements' sales. 
Dietary supplements in capsule form will gain market strength by 2022, with over $32,891 forecasted to sell in 2022. 
Rise-N-Shine products are available for sale in retailers including Wake Up On Time sold in Walmart stores nationwide. Rise-N-Shine products are also available online on Walmart.com, Amazon.com, Jet.com, Walgreens.com and Rise-N-Shine's website. 
All Rise-N-Shine products are natural, non-GMO and made in the USA. 
---