Great Wellness Gift Ideas for the Woman Who Has It All!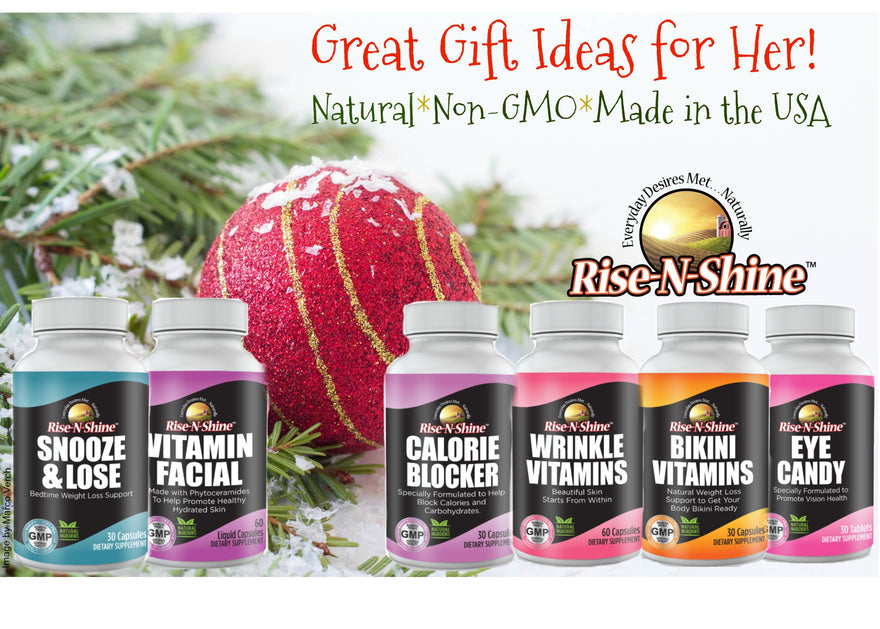 Rise-N-Shine offers a range of natural, non-GMO, cruelty-free and made in the USA wellness/beauty products that women swear by each day to look and feel great the entire year through! They are perfect for women who have it all and make great stocking stuffers too!
Click each hyperlink to view some Rise-N-Shine favorites that the special ladies in your life who embrace natural products are bound to enjoy! 
Bikini Vitamins - Offers weight loss support to help a woman get her body bikini ready. The New Year is the perfect time to start - especially when many are in New Year's Resolution mode  - and get that bikini body ready! 
 Biotin Booster - Support for hair, nails and skin with 10,000 mcg of biotin per each vegetable capsule. 
 Biotin 5000 - 5,000 mcg of biotin packed into every delicious, strawberry-flavored gummy vitamin. Optimal support for hair, nails and skin.  
Calorie Blocker - High quality, natural ingredients to help block calories and carbohydrates. 
 Catalase Extreme 30-Day Starter Set - This supplement and shampoo and conditioning team helps to promote more youthful hair. Catalase is an enzyme that is depleted from our body as we age. Catalase Extreme 10,000 is the strongest Catalase formula on the market. Many find it even more effective with the Catalase Extreme Shampoo and Conditioner, which also both contain Catalase. The shampoo and conditioner contain no dyes and are suitable for all hair types and colors.
Color My Gray Shampoo and Conditioner - Color My Gray is the only product of its kind formulated for gray hair - wash and condition hair while gently blending back color. Use a few times a week for more subtle results and daily for more intensity. In black, brown and blonde shades. 
Eye Candy - Rise-N-Shine's vision support formula Eye Candy, boasts key vitamins and other nutrients for optimal vision health, including Vitamin A, Zinc, Lutein, Bilberry Fruit, Grape Seed and more. 
Hair U-Grow Starter Set - For healthier and thicker hair, Hair U-Grow is a daily supplement, complemented with Hair U-Grow Shampoo and Conditioner. This team includes herbs like Saw Palmetto, which can naturally challenge DHT, the contributing factor for hair loss for both women and men. 
Snooze & Lose - Key ingredients along with a healthy diet and exercise can help to support weight loss while you sleep!
Vitamin Facial - Healthy and hydrated skin starts from within with Vitamin Facial. Each liquid capsule is like enjoying a facial in a capsule - the natural phytoceramides in each capsule are known to plump up skin, reducing the appearance of fine lines and wrinkles. 
Wrinkle Vitamins - This high-potency formula is packed with nutrients for healthy skin. Aloe Vera, Reseveratrol, Grape Seed, Alpha Lipoic Acid and Green Tea are among the ingredients. Collagen and Hyaluronic Acid are part of the formula - this duo helps to support the layers of the skin to reduce the appearance of fine lines and wrinkles - these two ingredients are used in dermatologists offices in injectable forms. 
 Click here for Rise-N-Shine's full line of natural, non-GMO and made in the USA nutritional supplements and haircare products! 
---