Gummy Vitamin Popularity Expected to Climb Through 2025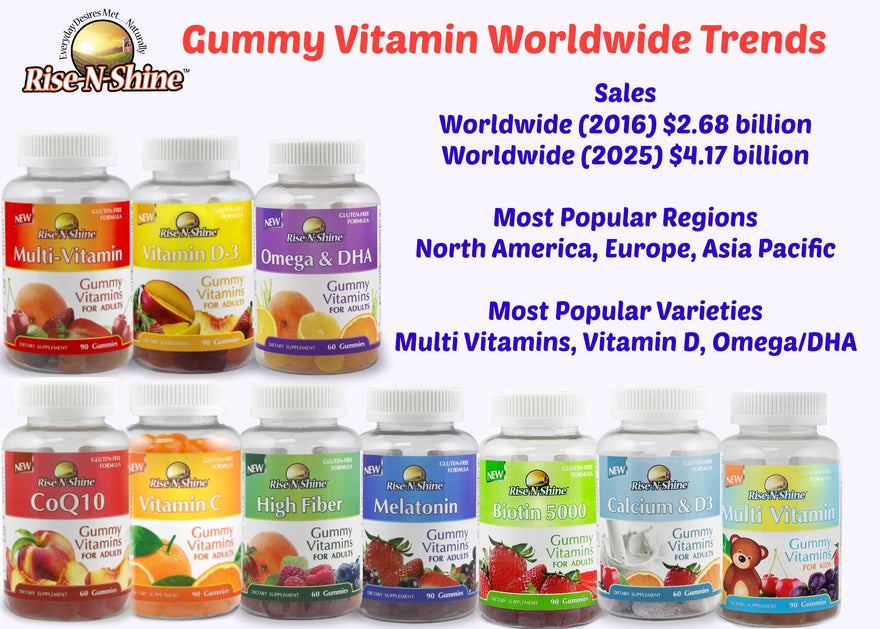 A recent study has revealed that the Gummy Vitamin market is a trend that will continue to grow through 2025.
Many consumers enjoy gummy vitamins, which facilitates the process of taking vitamins. For those who have difficulty swallowing tablets or capsules, gummy vitamins can be an excellent alternative. Plus, many prefer the gummy variety of vitamins for the taste, while receiving the nutrients they are seeking. 
Rise-N-Shine offers a full-line of multivitamin and single vitamin gummy vitamins for adults. Rise-N-Shine gummy vitamins are gluten-free and come in a range of delicious-tasting flavors. Rise-N-Shine additionally offers a bear-shaped gummy vitamin for children.
The full lineup of Rise-N-Shine Gummy Vitamins includes (click hyperlink for more information):
Transparency Market Research, a market research company in Albany, NY just released a study about the gummy vitamin industry, indicating the rising trend in taking these super-tasting types of supplements. According to their data they noted:
Worldwide Sales for Gummy Vitamins in 2016 is $2.68 billion - by 2025, that number will increase to $4.17 billion.
The most popular regions for gummy vitamins sales North America, Europe and Asia Pacific. North America is leading the way, with Europe in second place. Asia Pacific is gaining speed due to the increase in supplement consumption in this region. 
Varieties that are on-trend most especially are multi-vitamins. Originally a children's supplement, more and more adults are taking gummy vitamins for their health. Single ingredient gummy vitamins in the Vitamin D and Omega & DHA varieties are gaining speed. Vitamin D is a vitamin that has experienced a greater consumption overall, according to the study. Omega & DHA has been gaining its market share among pregnant women who are seeking a more palatable way to take their omega vitamins. 
All Rise-N-Shine products are natural, non-GMO and made in the USA. 
Click here to view Rise-N-Shine's full product line of nutritional supplements and haircare products. 
---