"I Awaken Much More Alert and Ready to Go..." With Wake Up On Time!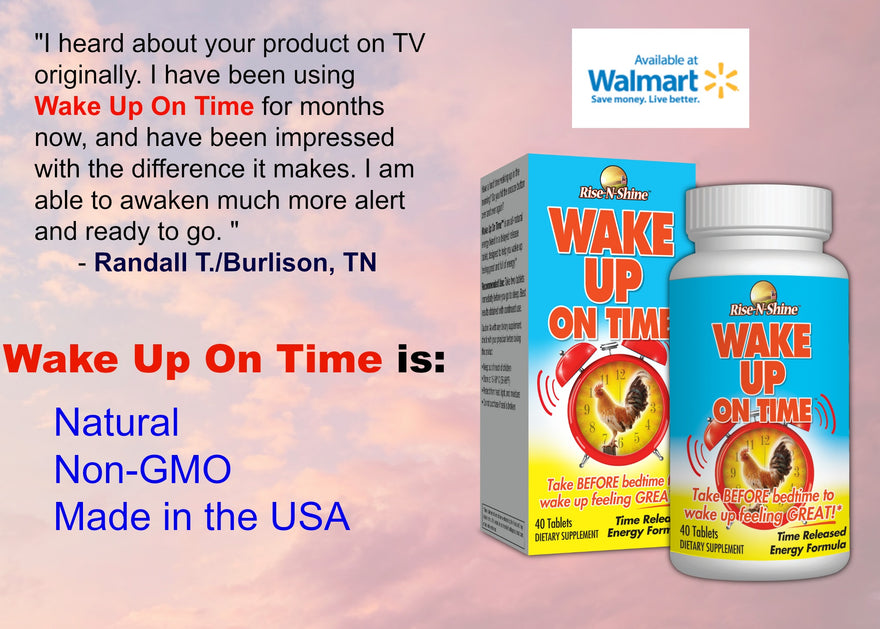 Randall T. of Burlinson Tennessee is a customer of Rise-N-Shine's who has truly learned what a difference Wake Up On Time has made in his life.
"I heard about your product on TV originally," Randall wrote to Rise-N-Shine. "I have been using Wake Up On Time for months now, and have been impressed with the difference it makes. I am able to awaken much more alert and ready to go."
Randall, however, especially noticed the difference when he ran out of his supply of Wake Up On Time.
"I ran out of the product about two weeks ago, and within a few days I began to tell a distinct difference," he said. "It would be harder for me to get going, and then I would start losing energy by around 9 a.m. and basically stay tired and sleepy much of the day."
What makes Wake Up On Time so unique that it can make that difference first thing in the morning...as well as throughout the day? 
Rise-N-Shine's patented Wake Up On Time is the first and only product of its kind taken before bed to wake up feeling great! Wake Up On Time combines a blend of vitamins, amino acids and herbs with a time-released coating. The time-release holds back until the last sleep cycle, so a person's sleep is uninterrupted. 
Those who swear by Wake Up On Time like Randall, call it an "alarm clock in a pill," the "greatest invention since coffee," "time in a bottle," a "replacement for a morning alarm clock," and something that has turned them into "morning people overnight!"
"I am anxious to receive my order and see how quickly the alertness returns. I have recommended it to several of my friends," Randall added. 
Wake Up On Time is a natural product, non-GMO and made in the USA. It is available in Walmart stores nationwide.
Click here to learn more about Wake Up On Time and order some today! 
---