"I Wake Up All Energized and Ready to Go" With Wake Up On Time!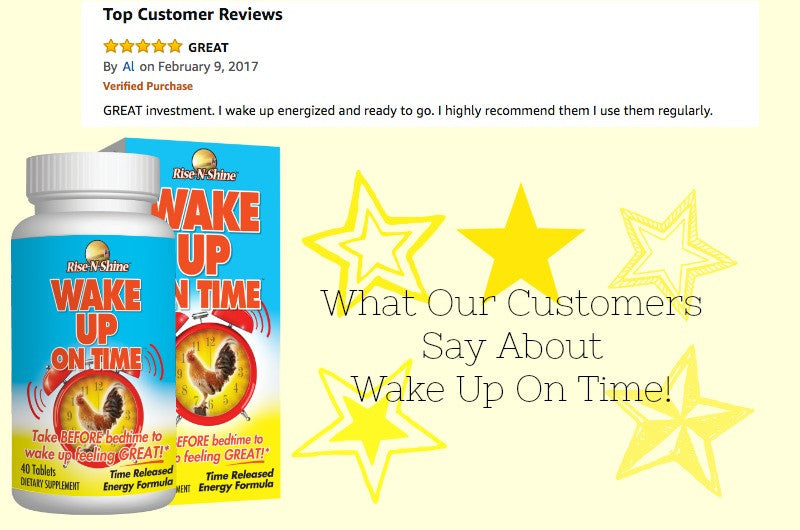 With Wake Up On Time now in over 3,000 Walmart locations nationwide, maybe you're wondering what those who love Wake Up On Time have been saying about this trusted product!
Cathy Beggan, Rise-N-Shine President and Founder created Wake Up On Time in seeking natural solutions to help her to wake up in the morning with more energy! Three alarm clocks didn't help the busy mom of three from oversleeping and three cups of coffee didn't give her the "oomph" she needed to face her day. 
But she learned that a combination of vitamins, herbs and amino acids, when taken BEFORE bed and with a delayed-release coating on the capsule that she created, helped to give her energy when she needed it most...when her alarm clock rings.
Wake Up On Time has helped people worldwide to feel great every day! Those who love it have called it "an alarm clock in a pill," the "greatest invention since coffee," "a replacement for the morning alarm clock" and something that has "turned them into morning people overnight!"
It's always great to hear from those who Wake Up On Time has helped. One of those people is Al who said, "GREAT investment. I wake up energized and ready to go. I highly recommend them I use them regularly." 
Click here for Wake Up On Time on Rise-N-Shine's website! Our product is also available in Walmart locations nationwide, on Walmart.com, Walgreens.com, Amazon.com, Jet.com and independent retailers.
---