InTouch Rugby Features Rise-N-Shine Products in Articles About Travel Essentials for Fans and Players for Women's Rugby World Cup 2017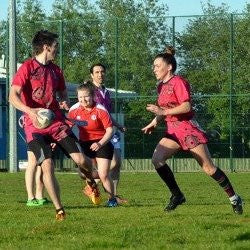 InTouch Rugby, an online rugby publication that has a social media following of over 470,000 on all of its channels, has spotlighted Rise-N-Shine products in its most recent articles about travel essentials during Women's Rugby World Cup 2017. These essentials, including Wake Up On Time, Stay Up All-Day and Sleep Tight All-Night, are those geared towards the traveling fans and athletes alike.
Rise-N-Shine's three products featured in InTouch Rugby's article are natural, non GMO, cruelty free and made in the USA energy and sleep formulas.
Wake Up On Time, often coined by its fans as an "alarm clock in a pill," is a patented, time-released formula that delivers vitamins, amino acids and herbs when it matters most...when the alarm clock rings. It has literally turned some who dread mornings into morning people...overnight! It can be taken daily or occasionally, depending on a person's individual needs.
Stay Up All-Day is an anytime energy boost that even earned itself a spot on a safe foods segment for Better Kansas City Live as a natural replacement for energy beverages. Studies have shown that energy drinks can negatively impact a person's blood pressure, as well as trigger weakening of dental enamel within five days of consistent consumption. That thinning of teeth enamel can lead to an increase in cavities. 
Sleep Tight All-Night is a natural and occasional sleep formula with ingredients like Melatonin, hops flower, valerian root and chamomile to help ease a person into peaceful rest.
These three products are perfect for those traveling who may experience jetlag, busy travel schedules and sleep difficulties in the locations that they're visiting. 
The Women's Rugby World Cup 2017 will be held August 9 through August 26, 2017 in Belfast and Dublin Ireland. 
Click here for the article in InTouch Rugby.
Click here for the article in InTouch Rugby Connacht. 
Click here for the article in Rugby Rep. 
Click here to order Rise-N-Shine products. Rise-N-Shine products are also available on Amazon.com, Walgreens.com, Walmart.com and in Walmart stores nationwide. 
---