Mornings Are Now Easier for Teachers...With Wake Up On Time!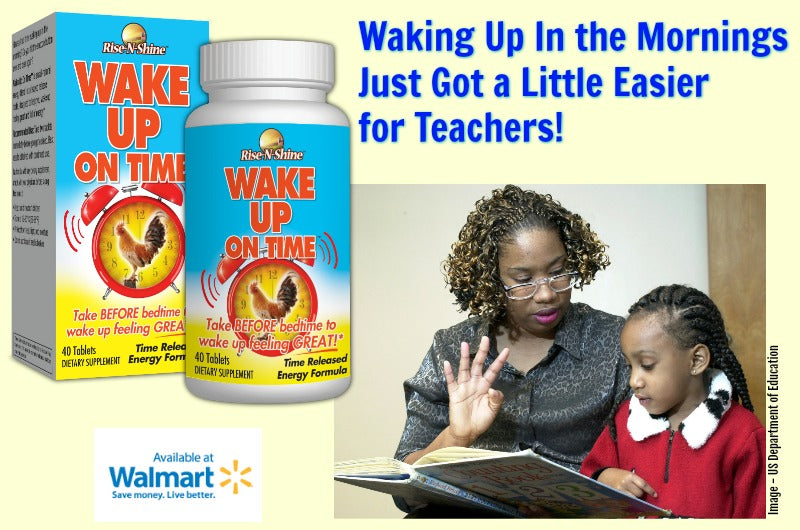 Kids aren't the only ones who will have to readjust to the school year's return. Teachers are also faced with the sudden rush that occurs when it's time to head back to school. 
Rise-N-Shine's Wake Up On Time can help make mornings easier for teachers who need to readjust their body clocks for the back to school season. 
Wake Up On Time is a natural and one-of-a-kind product that is taken before bedtime, to wake up feeling great! Wake Up On Time's premium energy blend contains vitamins, amino acids and herbs that work together to deliver a sustained boost of energy when it matters most...when the alarm clock rings. 
Those who swear by patented Wake Up On Time say it has literally turned them into "morning people overnight!" Wake Up On Time works with the magic of time-release, with a delayed-release tablet that releases its energy boosters at the end of the sleep cycle. 
Fans of Wake Up On Time have called it an "alarm clock in a pill," the "best invention since coffee," a "replacement for the morning alarm clock" and "time in a bottle." 
Wake Up On Time is non-GMO and made in the USA. It's available nationwide in Walmart stores and online on Walmart.com, Walgreens.com, Jet.com, Amazon.com and Rise-N-Shine's website. Click here to order Wake Up On Time from Rise-N-Shine today!
---