New Look for Rise-N-Shine's 'Black Label' Line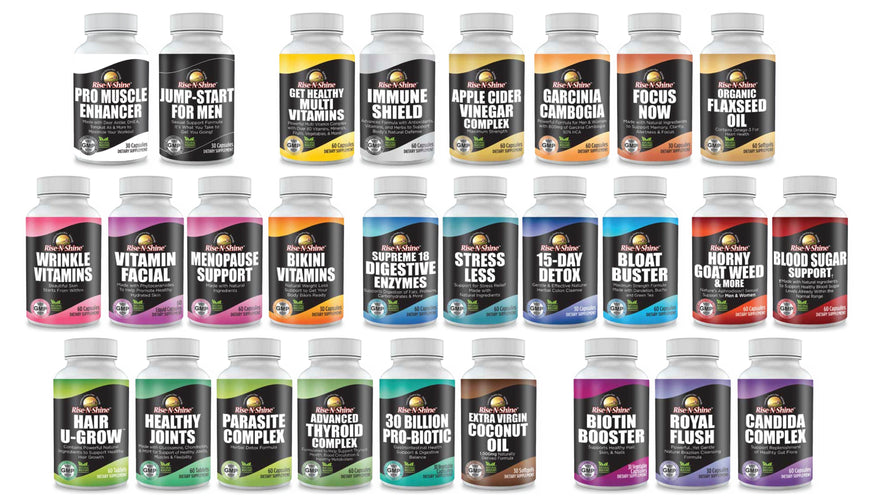 Rise-N-Shine has adopted a bold and fresh, exciting new look for its "black label" line. Rise-N-Shine's "black label" vitamins include its targeted solutions for everyday needs including: multivitamins, vitamins for skincare, supplements for haircare, nutritional supplements for weight loss, supplements for sexual support, dietary supplements for digestion and much more.
A black wave across each of the bottles and bolder colors and text are part of the label line's new look. The "GMP" (Good Manufacturing Practices) and "Natural Ingredients" seals, which had been on the label back previously, are now displayed prominently on the label front, as a way to inform customers quickly and easily about the quality in Rise-N-Shine supplements. On the back of Rise-N-Shine labels, customers will see the "Made in the USA" seal. All Rise-N-Shine products are manufactured in the United States in a world-class, FDA-inspected facility. 
Several of the products in the "black label" line have undergone name changes and are still the same great formulas. They are:
"Holy Vitamins!" is now "Get Healthy Multi Vitamins"
"Wrinkle Remedy" is now "Wrinkle Vitamins"
"Menopause Chill Pills" is now "Menopause Support"
 Click here to shop for Rise-N-Shine's full line of nutritional supplements and haircare products today. All Rise-N-Shine products are natural, non GMO, cruelty-free and made in the USA. 
---