No Longer a Slave to Coffee!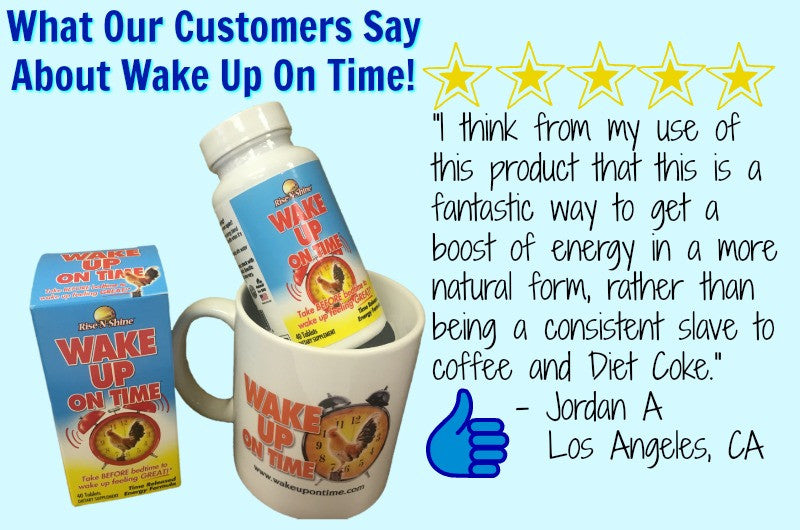 We love to hear from our customers! "Jordan A" from Los Angeles, Calif. is one of them! She describes herself as someone with "reluctance to follow trends but inability to resist trying products I need, want or rationalize as a necessity."
Wake Up On Time was one of those products that she tries...and loves!
She wrote, "I bought this product on my own without incentive or as a promotional product. I think from my use of this product that this is a fantastic way to get a boost of energy in a more natural form rather than being a consistent slave to coffee and Diet Coke definitely recommend."
Rise-N-Shine's patented Wake Up On Time is a natural energy blend taken before bed that doesn't start working until it's time to wake up. Wake Up On Time contains the highest quality ingredients, including Vitamin B6, Vitamin B12, Guarana seed extract, L-tyrosine, Eleuthero root extract and more! Wake Up On Time is designed to help you wake up in the morning feeling great and full of energy with its combination of vitamins, herbs and amino acids! Wake Up On Time will never prevent you from falling asleep - thanks to the magic of time release. This product is unique, being that it is the first of its kind, taken before bed to provide a person with natural energy when it matters most - when the alarm clock rings. Consumers who use this product have described it as an "alarm clock in a pill," the "greatest invention since coffee," a "replacement for the morning alarm clock" and something that has turned them into "morning people overnight!"
Rise-N-Shine's Wake Up On Time is available nationwide in Walmart stores, independent retailers, on Walmart.com, Walgreens.com, Amazon.com, Rise-N-Shine's website and other online retailers. 
---