"No Sluggish Mornings Anymore!"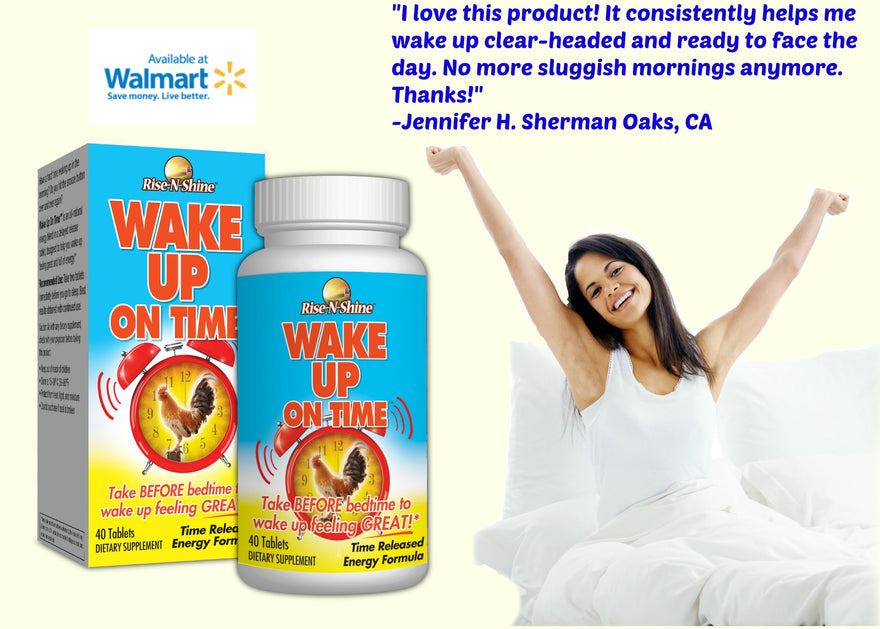 "I love this product. It consistently helps me wake up clear-headed and ready to embrace the day. No sluggish mornings anymore. Thanks!"  

This is what Jennifer H. from Sherman Oaks, California told us about her experience with Wake Up On Time. 
Many who swear by Wake Up On Time have experienced exactly what Jennifer experienced! They noticed a complete difference waking up in the morning. That morning fog that they typically dealt with disappeared. They felt more alert, clear-headed and ready to start their day. 
That's because patented Wake Up On Time is the first and only product of its kind taken before one goes to bed, to wake up feeling great! Those who love Wake Up On Time have called it a "miracle product" that has turned them into a "morning person overnight!"
They've also nicknamed Wake Up On Time an "alarm clock in a pill," a "replacement for the morning alarm clock," "time in a bottle," and the "greatest invention since coffee!"
What is the magical spark in Wake Up On Time that helps to give a person like Jennifer a great start to her day? Wake Up On Time offers a few!
First is the premium blend of vitamins, amino acids and herbs like Vitamin B-12, Guarana Seed Extract, Eleuthero Root Extract and L-Tyrosine to help deliver energy when it matters most...when the alarm clock rings! Plus, the premium energy blend in Wake Up On Time is natural and sustaining...and won't cause that crash or the jitters like many products on the market do!
Second is Wake Up On Time's time-delayed coating - the magic of time-release holds back Wake Up On Time's ingredients until the last sleep cycle so a person's sleep isn't interrupted and they can wake up feeling refreshed. 
We've heard from so many people that Wake Up On Time has made a difference for! They include:
Parents who need that extra energy to wake up each day;
Frequent business travelers;
Those with health conditions who have difficulty waking up in the morning;
Those who have now added back time into their days that they can work out before work;
Parents of college students whose students no longer have difficulties waking up for work or class;
Many more!
Wake Up On Time is natural, non-GMO and made in the USA! It's available at Walmart stores nationwide!
Take Wake Up On Time tonight for a better morning tomorrow! Click here to learn more about Wake Up On Time. 
---