Reviewer Asks - "What Price Can You Put On Getting Your Life Back?"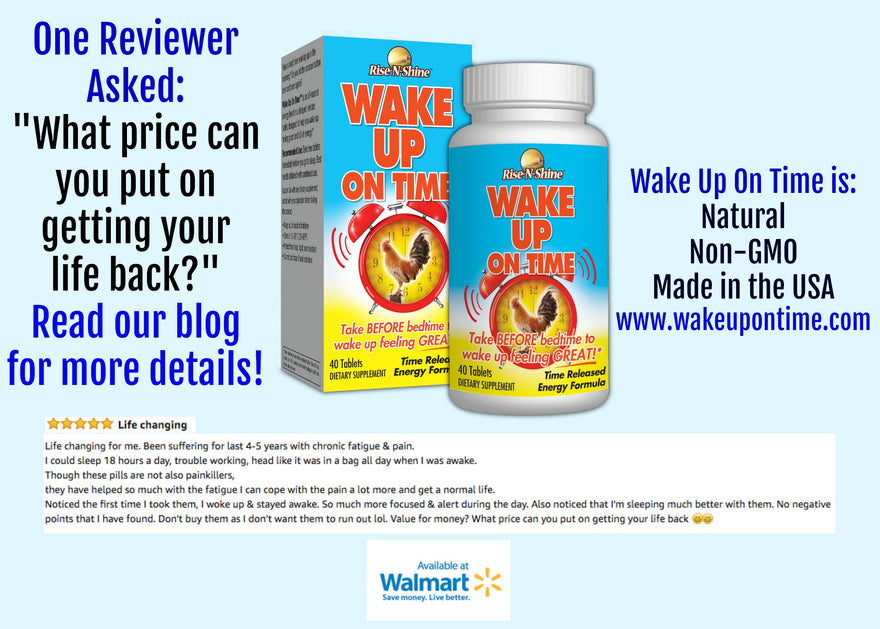 Living with chronic fatigue and pain is never easy. One anonymous reviewer had been fighting with both for about five years - before trying Wake Up On Time. And in their case, Wake Up On Time has made a significant difference in the quality of their life.
"I could sleep 18 hours a day, trouble working, head like it was in a bag all day when I was awake," they wrote.
They added: "Though these pills are not also painkillers, they have helped so much with the fatigue I can cope with the pain a lot more and get a normal life. Noticed the first time I took them, I woke up & stayed awake. So much more focused & alert during the day. Also noticed that I'm sleeping much better with them."
Wake Up On Time is the first and only energy supplement of its kind that you take before bedtime, that can help you to wake up feeling refreshed and with more energy. It is a premium and sustaining energy blend of vitamins, amino acids and herbs combined with the magic of time-release. The time-delayed coating on each Wake Up On Time tablet holds back delivery of the nutrients in Wake Up On Time until a person's last sleep cycle. 
Rise-N-Shine's Wake Up On Time is natural, non-GMO and made in the USA. 
Those who swear by Wake Up On Time call it an "alarm clock in a pill," a "replacement for the morning alarm clock," the "greatest invention since coffee" and something that has turned them into "morning people overnight." 
Wake Up On Time is available nationwide in Walmart stores. It is sold online on Rise-N-Shine's website (click here) as well as on Amazon.com, Jet.com and other online retailers. 
Click here for Rise-N-Shine's full line of nutritional supplements and haircare products.
---