Rise-N-Shine on the Road - Visit Us at Natural Products Expo, Expo East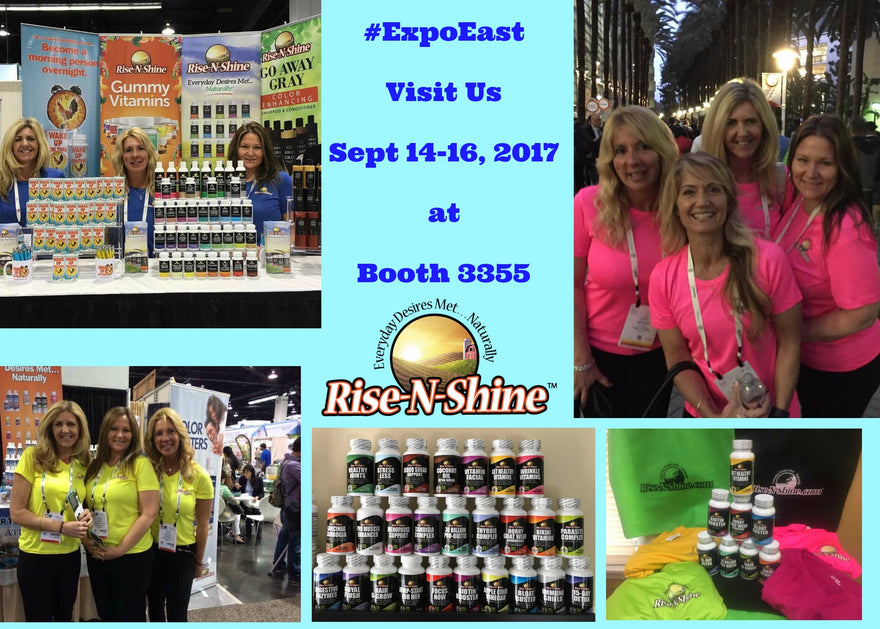 The team at Rise-N-Shine is packing their bags and packing up all the great Rise-N-Shine products for Natural Products Expo, Expo East.
The Natural Products Expo is described as "the world's largest and premier trade show for the natural, organic and healthy products industry." Expo East is scheduled at the Baltimore Convention Center in Baltimore, Maryland from September 14-September 16, 2017. 
Rise-N-Shine will be at booth 3355 during the expo. Come by and check out Rise-N-Shine's extensive product line of natural, non-GMO, cruelty-free, GMP and made in the USA nutritional supplements and haircare products. 
Rise-N-Shine is excited to display all of our products at #ExpoEast. Come learn about all of them including: Wake Up On Time, Catalase Extreme 10,000, Color My Gray Shampoos and Conditioners, Stay Up All-Day, Sleep Tight All-Night, Hair U-Grow, Bikini Vitamins, Wrinkle Vitamins, Apple Cider Vinegar Complex, Pro Muscle Enhancer, Jump-Start for Men and many more.
Plus, we'll be previewing our newest products including: Antioxidants Extreme, Eye Candy Vision Support, Snooze & Lose, Calorie Blocker, Circulation Support, Electrolyte Support, Cinnamon Complex and Organic Turmeric. 
We look forward to seeing you there! 
---