Rise-N-Shine Product Review/Holiday Gift Guide Appearance in 'Simple Side of Life'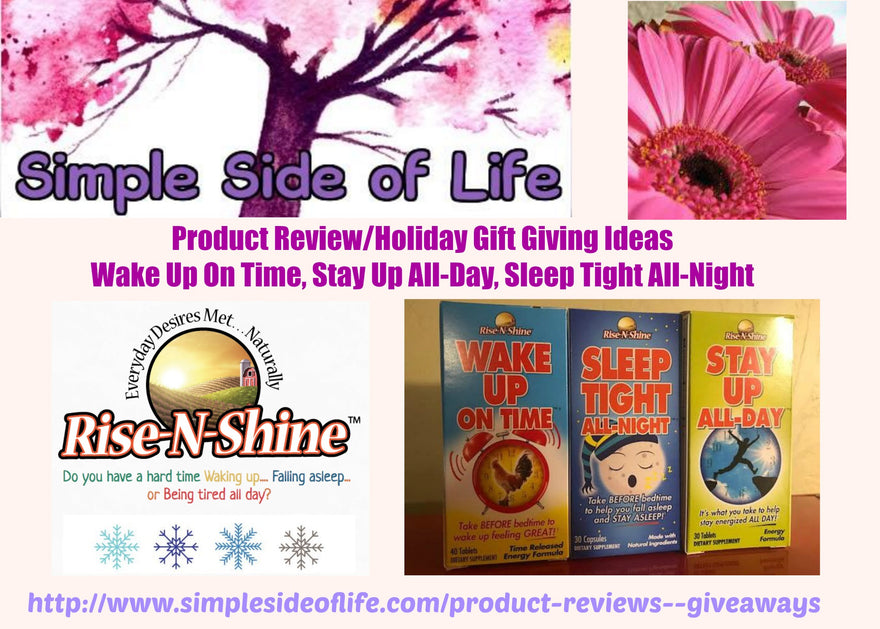 Rise-N-Shine's trifecta of energy and sleep products - Wake Up On Time, Stay Up All-Day and Sleep Tight All-Night - have been featured in the Simple Side of Life's Holiday Gift Guide.
Simple Side of Life is a website that specializes in product reviews, holiday and birthday gift giving ideas, recipes and more. 
Shelly who runs Simple Side of Life had tested and reviewed Wake Up On Time several months ago and coordinated a vibrant product giveaway contest on her site. Wake Up On Time appealed and still appeals to Shelly, who copes daily with a disrupted sleep schedule. Shelly explained to readers during her first review that she had her thyroid surgically removed, which requires her to wake up each morning at 4 a.m. to take her medication. Between the interruption in her sleep, combined with the lack of thyroid, it can cause issues with her overall vitality. 
Now, she has had the opportunity to try Wake Up On Time's siblings, Stay Up All-Day and Sleep Tight All-Night. Click here for her review of all three. 
Her takeaway on these three products? 
"These all work great. Perfect to add to a college student or anyone's stocking. Buy all 3, you will be amazed with the results. I've used them all some on the same nights some alone on others day/night. No matter how my days been I always need help falling asleep and staying asleep. SLEEP TIGHT ALL-NIGHT works great. Needing to be energized all day take STAY UP ALL-DAY, doesn't give you the jitters just helps you stay awake. 
Having a hard time to wake up on time? WAKE UP ON TIME (take before bedtime) is perfect for you. None are habit forming. ALL made with natural ingredients. "
More of Shelly's commentary/insights into the products:
Wake Up On Time - "I take this every Tuesday before I go to bed. My days off are Sunday/Monday. Tuesday morning is like Monday to me. I have the hardest time waking up.... not anymore. I just take one and now wake up on time, no more hitting the snooze over & over. I just get up, get in the shower and start my day. Never feeling tired or wishing I could just crawl back into bed. Love this stuff, it works great."
We're so glad to hear that patented Wake Up On Time has benefitted Shelly, as it has benefitted its many fans who swear by it. It's the first and only product of its kind taken before bed to wake up feeling great! Part of Wake Up On Time's magic is in its premium energy blend of vitamins, amino acids and herbs. These nutrients, including Vitamin B12, L-Tyrosine, Guarana Seed Extract and Eleuthero Root Extract, are held back with the magic of time-release. The delayed-release coating in Wake Up On Time holds back the natural ingredients until a person's last sleep cycle. Once they are delivered, a person wakes up feeling refreshed and ready to start the day! Those who love Wake Up On Time have coined it a "miracle pill" that has helped to turn them into "morning people overnight." Other praises for Wake Up On Time? It's been called an "alarm clock in a pill," the "greatest invention since coffee," "time in a bottle," and a "replacement for the morning alarm clock." 
Stay Up All-Day - "You truly will stay up all-day. No yawning, no dragging half way through the day. No afternoon crash. Just all-day energy when needed. Perfect for busy days."
Stay Up All-Day is our "anytime" energy formula. It's perfect for that pick-me-up in the afternoons, or to deliver more energy before a workout. It delivers a natural energy boost without the jitters, like many energy products such as energy drinks do! Stay Up All-Day and its sibling products were featured on KCTV5's Better Kansas City Live, with Stay Up All-Day touted as a safe replacement for energy drinks. Click to watch the segment below:
Sleep Tight All-Night - "I take one of these pills almost nightly before going to bed. I take it before my evening shower then go right up to bed. I now fall asleep fast, stay asleep all night (until 4am when I wake for my thyroid pill) and go back to sleep fast until 7am when I am up and getting ready for my day. I was having the hardest time staying asleep. I usually fall asleep pretty fast if I read a book, but now I just go to sleep, stay asleep and am much happier of a person in the morning."
Like its sibling energy products, Sleep Tight All-Night is a natural product. Ingredients including Melatonin, Hops Flowers, Chamomile Flower, Valerian Root and Passionflower are in this special blend, to help a person transition into a peaceful night's rest. 
All of these products are natural, non-GMO and made in the USA. They are perfect stocking stuffer gifts for travelers who may be crossing time zones, on a rigorous travel schedule or who are sleeping in unfamiliar surroundings and simply need a product to help them naturally ease into a snooze. 
Click here for Rise-N-Shine's full product line of nutritional supplements and haircare products and place an order today! 
---