Rise-N-Shine Product Spotlight: Apple Cider Vinegar Complex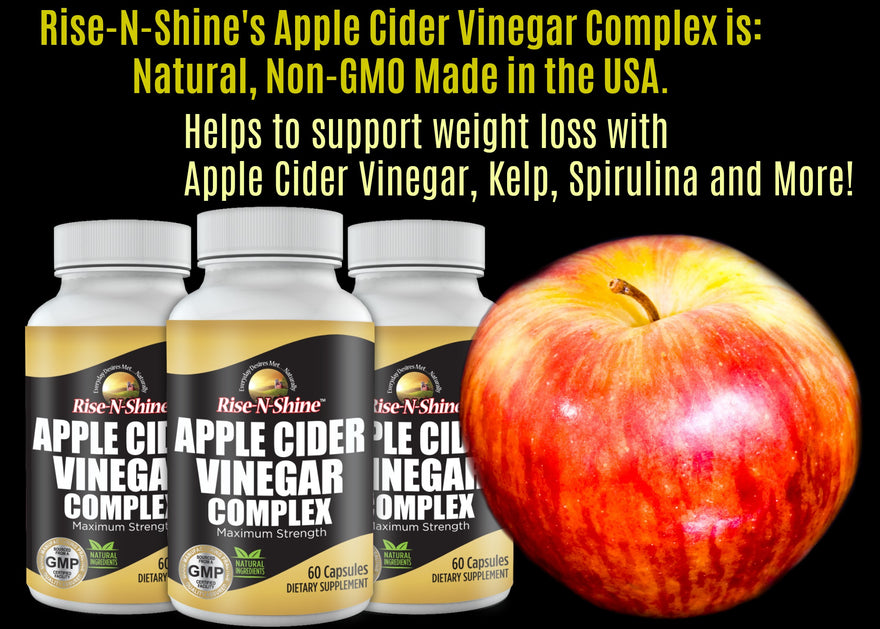 Apple Cider Vinegar has become a popular ingredient that people have sought out to support weight loss and blood sugar. It also can have positive effects on gastrointestinal health due to its probiotic properties.
But some have overdone their Apple Cider Vinegar consumption, which should only be consumed in small doses to avoid side effects. One of the drawbacks of Apple Cider Vinegar can be its effect on a person's stomach, esophagus and even the enamel of their teeth, due to its acidity. Plus, those who regularly drink Apple Cider Vinegar can lower their body's potassium reserves, since Apple Cider Vinegar can interrupt the body's absorption of potassium. Plus, the dilution of Apple Cider Vinegar with water in those larger doses, can lower the body's balance of natural salts, which may cause health issues. 
Rise-N-Shine has simplified the process of taking Apple Cider Vinegar with our Apple Cider Vinegar Complex. It offers the Apple Cider Vinegar benefits, without the acidity. Rise-N-Shine's Apple Cider Vinegar Complex also supplements ingredients that are typically lost with liquid vinegar drinks, like potassium and iodine. In addition to containing Apple Cider Vinegar Powder, it includes: Vitamin B-6 (for energy), Spirulina (probiotic support), Kelp (antioxidant), Iodine (for thyroid support), Potassium (supports cellular function) and more.   
Click here to learn more and to order Rise-N-Shine's Apple Cider Vinegar Complex today!
Click here for all of Rise-N-Shine's products. 
---