Rise-N-Shine Releases New Products!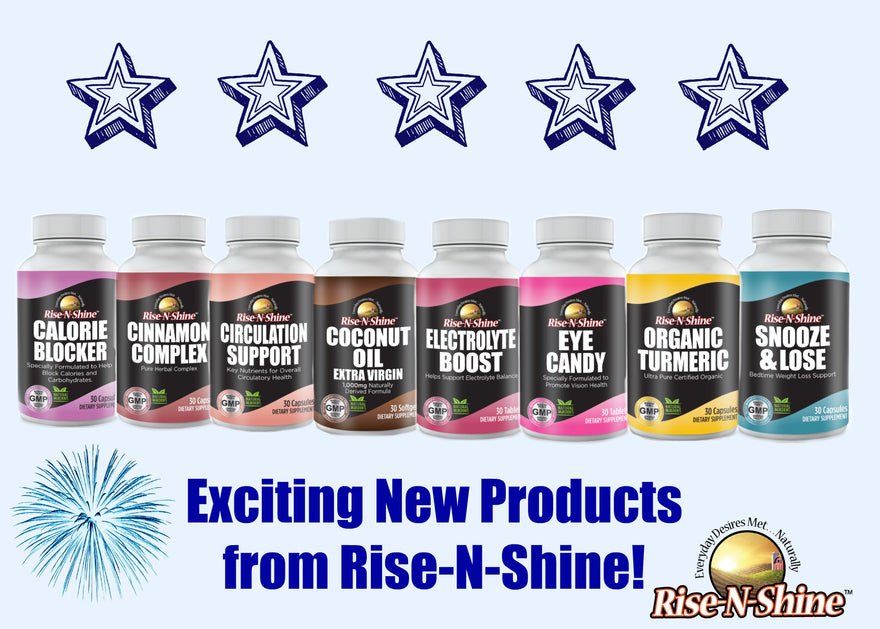 Rise-N-Shine has released some exciting new products, which are now available for purchase on our website! Click on the hyperlinks below to learn more about them. They include:
Calorie Blocker - a natural formula with ingredients that help to block calories and carbohydrates.
Cinnamon Complex - an herbal complex with organic cassia cinnamon bark.  
Circulation Support - key nutrients that help to support circulation like Niacin, Ginger Root, Cayenne Pepper and more! 
Coconut Oil - Extra Virgin Organic Coconut Oil for overall health. 
Electrolyte Boost - nutrients that support electrolyte balance including potassium, BioPerine, calcium and more! 
Eye Candy - top quality nutrients for vision support, including Lutein, Vitamin A, L-Taurine and other ingredients. 
Organic Turmeric - certified organic turmeric for anti-inflammatory support. 
Snooze & Lose - bedtime weight loss support with nutrients such as Colostrum Powder, L-Lysine and L-Glutamine.  
All Rise-N-Shine products are natural, non-GMO and made in the USA products using GMP standards in manufacturing. 
Click here to view Rise-N-Shine's full line of nutritional supplements and haircare products. 
---