Rise-N-Shine Wake Up On Time - Contains 5 of the 8 Essential B Vitamins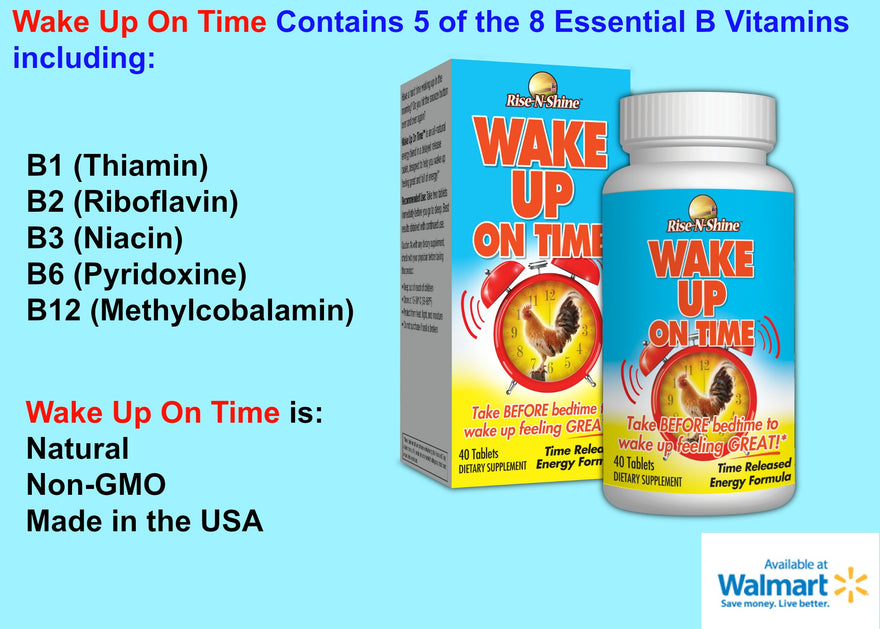 B Vitamins are essential for optimal health. A recent Newsmax Health article outlined the eight B Vitamins, often known as "B Complex." B Vitamins work to convert food into energy by processing protein, glucose, carbohydrates and fats.
B Vitamins are classified as "water soluble" vitamins, meaning they are easily absorbed into the body and then excreted. B Vitamins must be replenished in the body each day, since they are not stored. 
Rise-N-Shine's patented energy formula, Wake Up On Time, contains five of the eight B Vitamins. They are, along with the functions they perform:
Thiamin (B1) - helps to transmit nerve impulses and break down alcoholic beverages that a person may drink. 
Riboflavin (B2) - antioxidant and free radical fighter that helps to maintain red blood cell reserves. 
Niacin (B3) - benefits the heart, lowers triglycerides and boosts "good" cholesterol. 
Vitamin B6 - supports hormones that regulate sleep and mood. 
Vitamin B12 - supports red blood cell function. Wake Up On Time contains Methyl B12, the most absorbable variety.
Wake Up On Time is the first and only product of its kind taken before bed, to help you wake up feeling great! Its premium blend of vitamins, amino acids and herbs is delivered through the magic of time-release. Wake Up On Time doesn't interrupt sleep, with the delayed-release formula releasing Wake Up On Time's energy blend during the last sleep cycle. 
Those who swear by Wake Up On Time have coined it "time in a bottle," an "alarm clock in a pill," the "greatest invention since coffee," a "replacement for the morning alarm clock" and something that has turned them into "morning people overnight!" 
Wake Up On Time is natural, non-GMO and made in the USA. It's available at Walmart stores nationwide. Click here to learn more about Wake Up On Time on Rise-N-Shine's website today! 
---