Rise-N-Shine's Wake Up On Time - Help for the Early Mornings!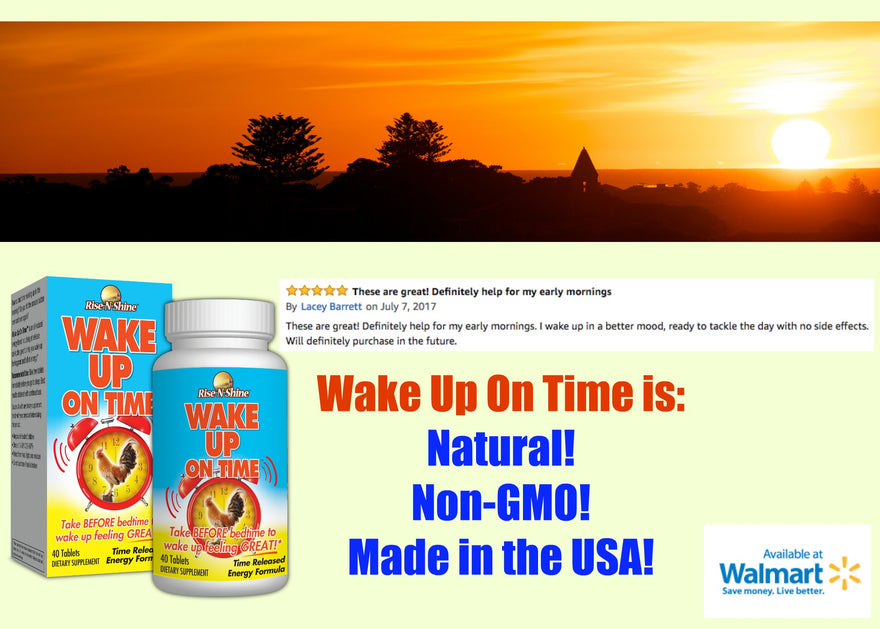 For many of the world's sleep-deprived people, it can be a daily battle to wake up, due to late nights and early mornings. 
But for those who have discovered Wake Up On Time, they have found a way that can help to break the cycle of morning fatigue. 
Lacey Barrett is someone who is now a Rise-N-Shine Wake Up On Time devotee, when she tried it to help bridge the gap for her early mornings. 
"These are great!" she wrote. "Definitely help for my early mornings. I wake up in a better mood, ready to tackle the day with no side effects. Will definitely purchase in the future." 
Rise-N-Shine's patented Wake Up On Time is the first and only product of its kind taken before bed to wake up feeling refreshed and full of energy. It is packed with energy-boosting nutrients including vitamins, amino acids and herbs, such as Vitamin B-6, Vitamin-B12, L-Tyrosine, Guarana Seed Extract and Eleuthero Root extract that give natural and sustaining energy.
But the time-released formula in Wake Up On Time with its time-delayed coating is part of its magic. 
Wake Up On Time doesn't interrupt sleep. In fact, it holds back the delivery of the nutrients through the time-delayed coating until a person's last sleep cycle and then gives a person energy when it matters most...when the alarm clock rings!
Those who swear by Wake Up On Time call it "great" as Lacey has! They also call it an "alarm clock in a pill," the "greatest invention since coffee," a "replacement for the morning alarm clock," "time in a bottle," and a "miracle product" that has changed them into "morning people overnight!"
Wake Up On Time is natural, non-GMO and made in the USA. It is available in Walmart locations nationwide. 
Click here to learn more about Wake Up On Time - take one tonight to become a morning person tomorrow!
Click here for Rise-N-Shine's full line of nutritional supplements and haircare products. 
---