See Rise-N-Shine's Special Offer Featured in October 9, 2017 Woman's World Magazine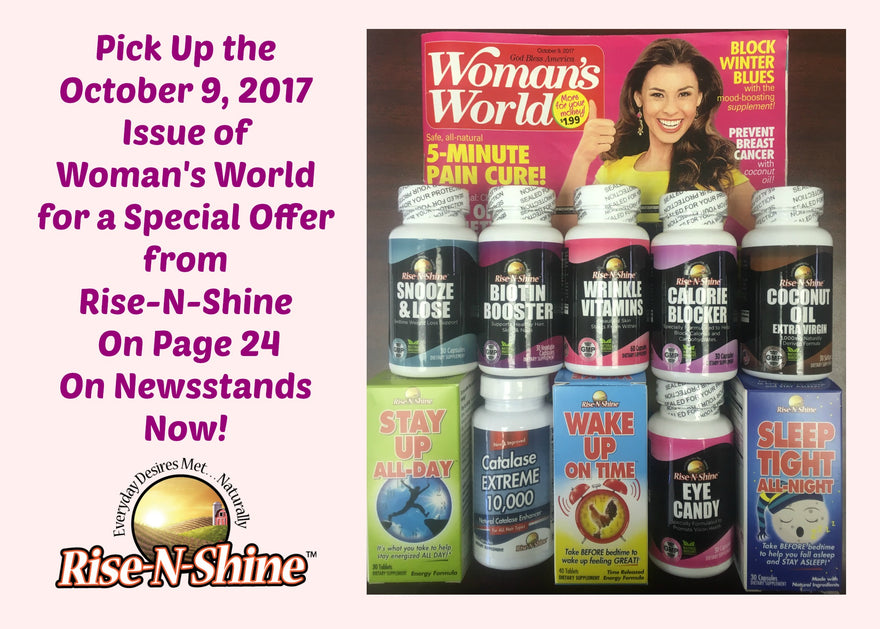 Pick up the October 9, 2017 issue of Woman's World Magazine for a special offer from Rise-N-Shine! This issue, which is on newsstands now, features some exciting offers including Rise-N-Shine's on Page 24. 
Woman's World Magazine is always chock full of useful articles, information and tips for health and beauty, as well as delicious recipes and excellent feature stories. 
Among the articles are several features on the benefits of healthful products and supplements, including coconut oil, flaxseed oil, Omega-3 fatty acids, CoQ10, Glucosamine and Magnesium. 
Rise-N-Shine features a range of natural, non-GMO and made in the USA nutritional supplements and haircare products for everyday needs, including those in the featured articles about supplements. Among them are our new Extra Virgin Coconut Oil supplement, Organic Flaxseed Oil supplement (also a great source of Omega-3 fatty acids), Omega & DHA gluten-free gummy vitamin (a delicious way to take Omega), CoQ10 gluten-free gummy vitamins for energy, Healthy Joints with Glucosamine and Chondroitin, and Stress Less with Magnesium and other nutrients known to support a lower stress lifestyle. 
Rise-N-Shine has other exciting products including patented Wake Up On Time. It is the first and only product of its kind taken before bed to wake up feeling great! It includes natural ingredients like Vitamin B12, Guarana Seed Extract, Eleuthero Root extract and more. Wake Up On Time is available in Walmart stores nationwide. Click here for more information about Wake Up On Time. 
Rise-N-Shine's supplements fall into many categories, from haircare (Catalase Extreme 10,000, Hair U-Grow and Biotin Booster among them), energy (Stay Up All-Day), skincare (Vitamin Facial and Wrinkle Vitamins), sleep (Sleep Tight All-Night and Melatonin gluten-free gummy vitamins), weight loss support (Bikini Vitamins, Apple Cider Vinegar and Pro Muscle Enhancer), sexual health (Jump-Start for Men and Horny Goat Weed), Menopause Support and more. 
Rise-N-Shine has just launched some exciting new products. Among them: Eye Candy (vision support), Antioxidants Extreme, Calorie Blocker, Cinnamon Complex, Circulation Support, Electrolyte Boost, and Snooze & Lose (bedtime weight loss support). 
Click here for Rise-N-Shine's full line of nutritional supplements and haircare products, including natural and cruelty-free shampoos and conditioners. 
---