"Simple Side of Life" Reviews Wake Up On Time, Hosts Giveaway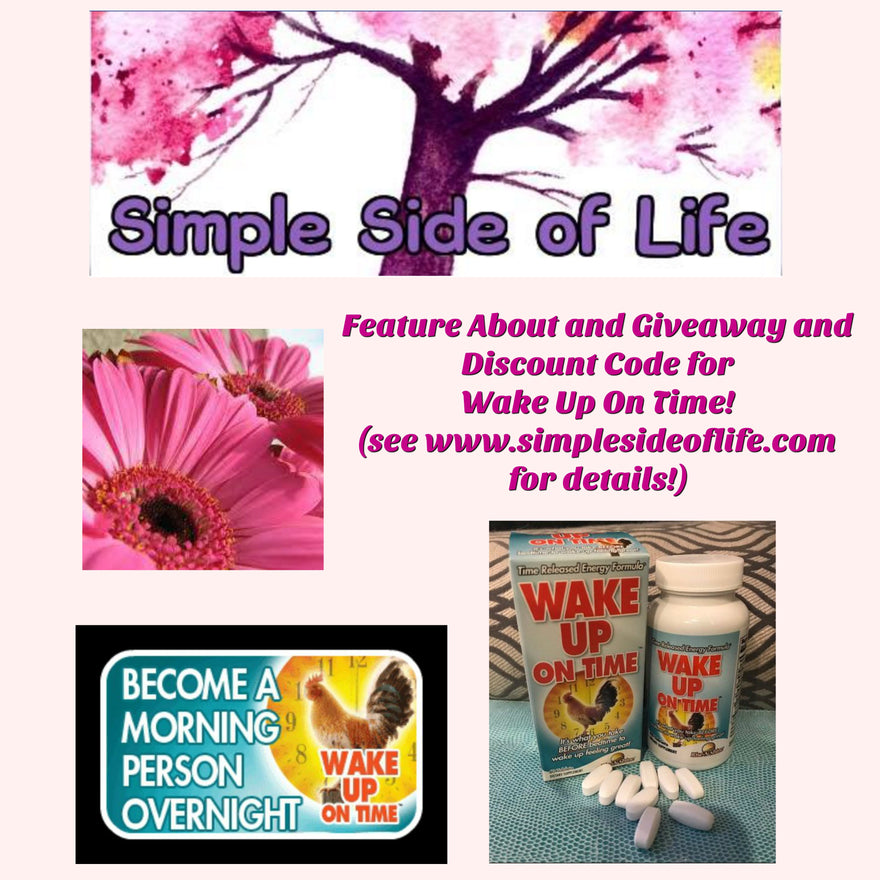 Having a health challenge can compromise a person's ability to sleep and also to wake up on time in the mornings. 
Shelly who is the editor of the website "Simple Side of Life" understands this scenario all too well. Click here to read her testimony - she was curious to try Wake Up On Time and is pleased with how it's helped her.
She explained that about 10 years ago before she had her thyroid removed, she was a morning person. And she said that she and mornings "are no longer friends. My bed is now my best friend I would rather stay there and continue to sleep, but I know I need to get up and get ready for work."
But that friendship has been renewed since Shelly started taking Wake Up On Time.
"Now when I take my Wake Up On Time the night before I can actually WAKE UP, get ready and not be groggy," Shelly added. 
Shelly also shared with her readers that part of her medication regimen involves waking up at 4 a.m. to take her meds and then struggling to fall back to sleep until 6 a.m.
She wrote: "Usually I am so sluggish in the morning. I have no thyroid and I actually wake up at 4 a.m., take some medication and go back to sleep for two hours. By the time I actually fall back asleep it's just about time to get up. I'm exhausted. I feel like I haven't even slept. The last thing I usually want to do it spring right out of bed and start my day. But now I can. With the help of Wake Up On Time."
Those of us here at Rise-N-Shine are so thrilled to know that this product has helped Shelly and could possibly help others who have had their thyroid removed, or may be battling with the sluggishness that thyroid issues can trigger.
Wake Up On Time, which many call an "alarm clock in a pill," is packed with nutrients to help you to wake up feeling great. It is the first and only supplement of its kind to be taken BEFORE bed, to work when it matters most...when the alarm clock rings!
The magic in patented Wake Up On Time is not just the premium energy blend of vitamins, amino acids and herbs - it is also the time-release. With the delayed-release coating on Wake Up On Time, the delivery of the energy formula is held back until a person's last sleep cycle. Those who use Wake Up On Time can enjoy a good and full night's sleep and then the ingredients in Wake Up On Time get to work to help make mornings easier!
Those who've tried Wake Up On Time have coined it "time in a bottle," the "greatest invention since coffee," a "replacement for the morning alarm clock" and something that has turned them into "morning people overnight!"
As Shelly also explained some of the benefits of ordering products with Rise-N-Shine includes our autoship program with free shipping! Set your products on your customized autoship program and you'll get your products when you need them with free shipping! Plus, Rise-N-Shine offers a buy 2 get 1 free option! 
Shelly thanked us for the opportunity to try Wake Up On Time and said she'd never had a product like ours before. 
She summed up her experience best on her site:
"Who doesn't need help in the morning? No more feeling sluggish, no more struggling to get ready and being late. You will wake up on time, no more hitting the snooze button."
Click here to read Shelly's review and also to enter into her site's giveaway for one (1) free bottle of Wake Up On Time! There is also a discount code for her readers that runs through September 15, 2017 - use the code Simpleside at check out on the Rise-N-Shine website for one free bottle of Wake Up On Time with any purchase! 
Wake Up On Time is natural, non-GMO and made in the USA! It is available for purchase at Walmart stores nationwide, on Walmart.com, Walgreens.com, Amazon.com, Jet.com and Rise-N-Shine's website (click here). 
Click here to learn more about Wake Up On Time! 
---