The Story Behind Wake Up On Time!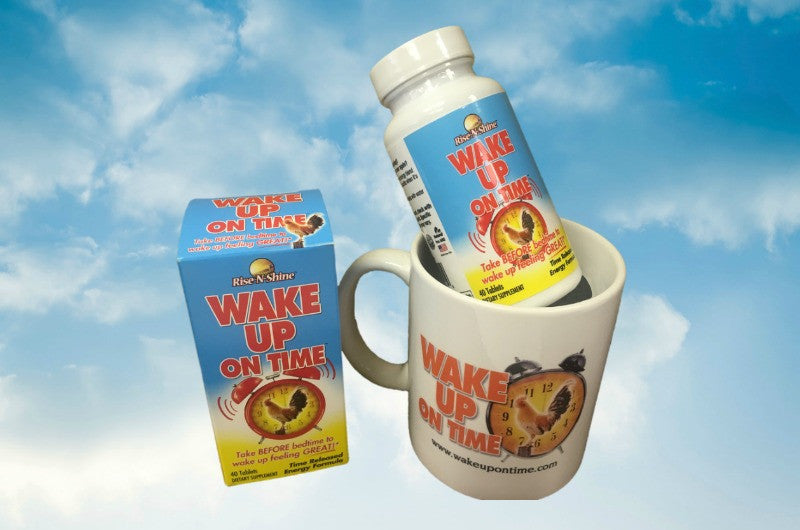 Cathy Beggan, Rise-N-Shine's Founder and President, couldn't fight the need to hit the snooze on her three different alarm clocks on a daily basis...often oversleeping. As a busy mom of three and advocate of all things natural, she learned after listening to stories of friends and family...they were all seeking a better way to "wake up on time!"
Cathy discovered that certain vitamins, herbs and amino acids together - the premium blend that comprises her product Wake Up On Time™ - helped her significantly.
Her goal was to create something that could be taken before bed that would help her to "rise and shine" with more energy.
Teaming up with health experts, she created and patented a coated and delayed-release tablet that delivers benefits when people need them most...when the alarm clock rings.
Those who swear by Wake Up On Time™ say it has turned them into "morning people overnight," and that Wake Up On Time™ is an "alarm clock in a pill," "the best invention since coffee" and a "replacement for the morning alarm clock."
Christine Freeman in the video below tried Wake Up On Time™ after feeling like even jolting herself with an energy drink in the morning wouldn't help. She decided to try Wake Up On Time™ for NBC's WMAQ in Chicago for their news story on the topic.
"Anything to get me up in the morning would be awesome!" she said.
The results? "I felt like I was more awake and thought...I might as well get up!" Freeman said.
Registered dietician Mary Russell described the ingredients in Wake Up On Time™ as "generally considered safe," and said that "people may want to use it when they get less sleep then they tend to get."
Russell suggested as an overall health strategy for people to also balance out meals throughout the day to keep blood sugar consistent and avert fatigue. 
Recently, Wake Up On Time™ was also featured on KCTV5's Better Kansas City. 
Wake Up On Time™ is available in over 3,000 Walmart stores nationwide and on Walmart.com. 
Rise-N-Shine, headquartered in Sparta New Jersey, has a full product line of nutritional supplements and hair care products that help people to feel and look great...naturally!
---