Time-Released Wake Up On Time - Wake Up Feeling Great After a Good Night's Sleep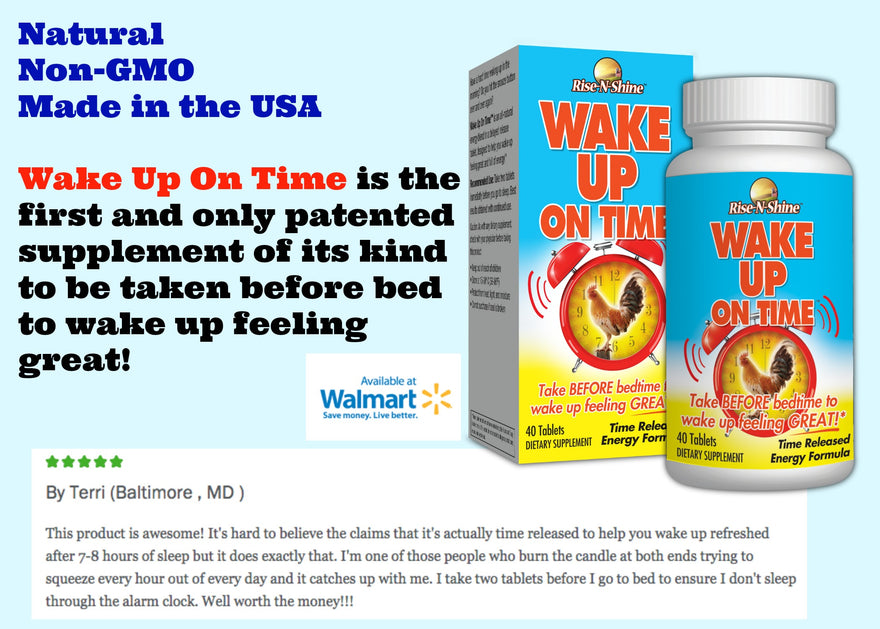 Do you want to wake up in the morning feeling more energized? Terri from Baltimore did and that's how she discovered Wake Up On Time! Terri shared in her review of the product how pleased she is with Rise-N-Shine's Wake Up On Time and what a difference it has made with helping her to wake up in the morning, without interrupting her sleep.
"This product is awesome!" she said. "It's hard to believe the claims that it's actually time released to help you wake up refreshed after 7-8 hours of sleep but it does exactly that."
Terri discovered the magic of Wake Up On Time in its time-release. Not just the natural ingredients of Wake Up On Time to help give that energy boost...but it's the delivery of those ingredients.
Wake Up On Time won't interrupt sleep. The patented tablet is designed to help you feel energized when it matters most...when the alarm clock rings. Wake Up On Time waits until you've reached the last sleep cycle, before the ingredients start to be delivered. And then you start to wake up more energized to face the day!
Those who swear by Wake Up On Time have called it among things, "time in a bottle," an "alarm clock in a pill," the "greatest invention since coffee," a "replacement for the morning alarm clock" and something that has "turned them into morning people overnight!"
How easy is it to take Wake Up On Time? Very! Just take two tablets before bed. Then let the premium energy blend of vitamins, herbs and amino acids work with the time-release to help wake you up on time! That blend includes: Vitamin B6, Vitamin B12, Niacin, Guarana Seed Extract, L-Tyrosine, Eleuthero Root Extract and more. 
Terri also described Wake Up On Time as "well worth the money!" She said that Wake Up On Time helped her as a person who burns the candle at both ends as many do, to not sleep through her alarm clock.
Wake Up On Time is natural, non-GMO and made in the USA. 
Wake Up On Time is available at Walmart stores nationwide! It is also sold online on Walmart.com, Amazon.com, Walgreens.com, Jet.com and Rise-N-Shine's website (click here for Wake Up On Time).
Click here to view all of Rise-N-Shine's products.  
---