Wake Up On Time - a Game Changer - Customer Feels 10 Years Younger!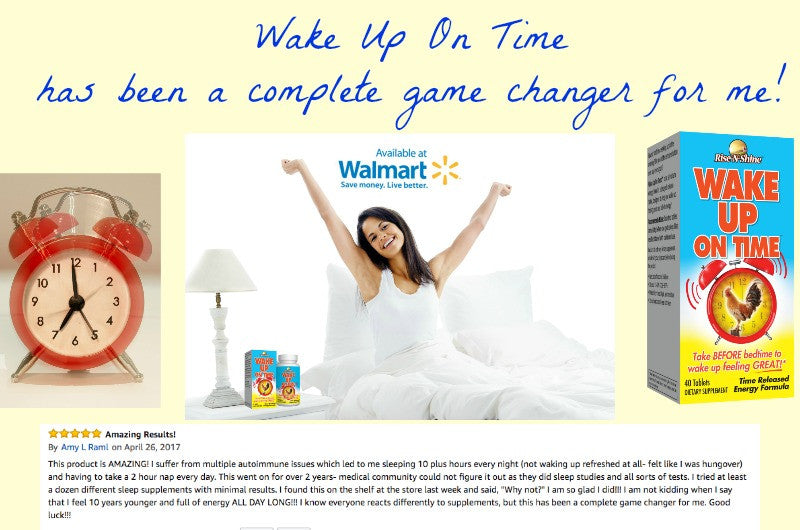 Wake Up On Time has changed the life of one of our customers, Amy L. Raml, who told us that the product has given her "amazing results!"
Amy suffers from what she describes as "multiple autoimmune issues." She said that she would feel groggy and almost hungover after 10 hours sleep a night. Doctors tested her and enrolled her in sleep studies, with no outcome. She tried out about 12 different sleep supplements with little positive outcome.
"I found this on the shelf at the store last week and said, 'why not?' I am so glad I did! I am not kidding when I say I feel 10 years younger and full of energy ALL DAY LONG!! I know everyone reacts differently to supplements, but this has been a complete game changer for me."
Wake Up On Time is the first supplement of its kind to be taken BEFORE bed, to wake up feeling great!! Its premium energy blend with its delayed-release coating help to deliver ingredients when it matters most...when the alarm clock rings. It does not interrupt sleep and Wake Up On Time has been helping people like Amy to wake up on time naturally! 
Amy calls it a "game changer!" Others have called Wake Up On Time an "alarm clock in a pill," the "best invention since coffee," a "replacement for the morning alarm clock" and something that has turned them into "morning people overnight!"
It's natural, non-GMO, cruelty-free and made in the USA! Wake Up On Time is available at Walmart and other retailers, and is available online on Rise-N-Shine's website, Walmart.com, Amazon.com, Walgreens.com and other online retailers. 
Click here to order Wake Up On Time today!
---