Wake Up On Time Can Help You to Head Back to the Gym!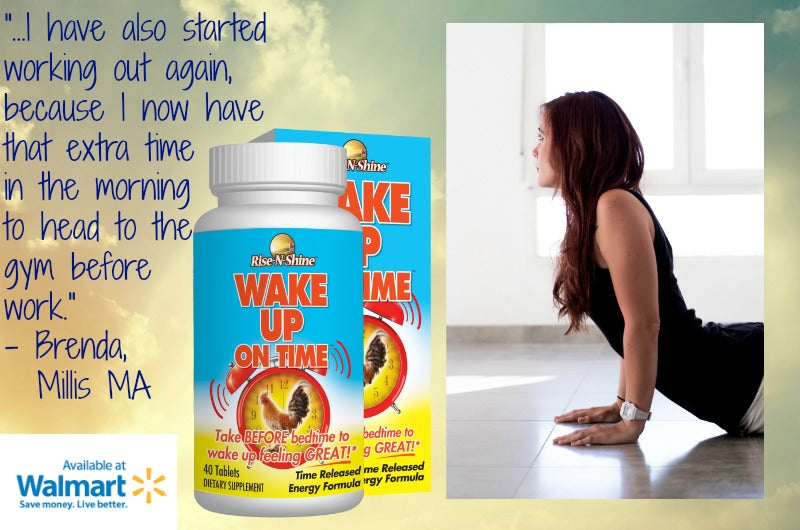 Struggling to wake up in the morning? Wake Up On Time can help to add hours to your day so you can accomplish your wellness and fitness goals like Brenda, one of our Wake Up On Time customers from Millis, Massachusetts.
Brenda was so thrilled how Rise-N-Shine's Wake Up On Time helped her to get a head start to each morning, that she emailed us to tell us what a difference it has made in her life.  One of the positive side effects of Wake Up On Time is that she now has more time in the morning to go to the gym before work!
"Hi, I received my first bottle of 'Wake Up On Time' about a week ago," she wrote. "It arrived within only three days submitting my order. So far it has worked fantastic for me. Before I had such a hard time getting out of bed, I would hit the snooze button at least three or more times each day. I have always wished I could be a 'morning person' and now I actually am! Now I wake up before my alarm goes off - without the urge to just crawl back under the covers and fall asleep. I have also started working out again, because I now have that extra time in the morning to head to the gym before work. 'Wake Up On Time' has certainly met my expectations and I have told everyone I know about it! Thank you very much." 

And thank you Brenda for sharing your story about the product you and many have called "time in a bottle," an "alarm clock in a pill," the "greatest invention since coffee," a "replacement for the morning alarm clock," and something that has turned them into a "morning person overnight!"
Wake Up On Time is the first and only product of its kind taken before bed to help you to wake up in the morning feeling great! Wake Up On Time's magic is its patented time-delayed coating...it holds back the delivery of the natural ingredients that make Wake Up On Time tick! After about six to eight hours of sleep, vitamins, amino acids and herbs - our premium energy blend - help to wake you up! And like Brenda, you could add hours to your day to accomplish the things that are important to you!
Incorporating Wake Up On Time is as easy as taking two tablets before bed with water and then allowing Wake Up On Time deliver benefits when it matters most...when the alarm clock rings! 
Where can you purchase Wake Up On Time? It's as easy as walking in to over 3,000 Walmart locations nationwide where it's available! Wake Up On Time is also available at Walmart.com, Amazon.com, Jet.com, on Rise-N-Shine's website and other retailers. 
Wake Up On Time is natural, non-GMO and made in the USA. Try Wake Up On Time and maybe you'll experience the positive side benefits like Brenda has or some of the others mentioned on the side of every Wake Up On Time box, "Singing in the shower, a sunny outlook on life and getting to work on time."
---