Wake Up On Time Helps Carmela to Bounce Out of Bed!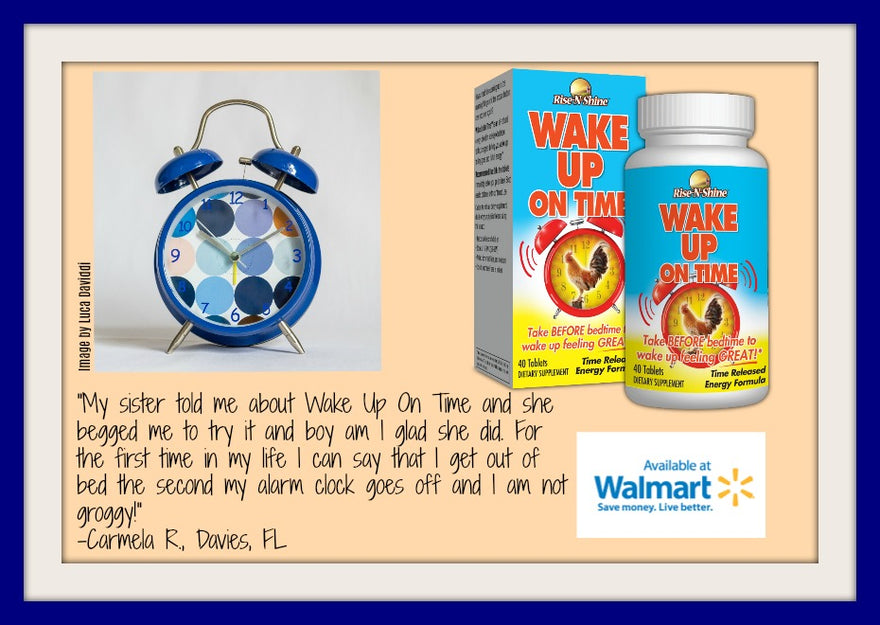 Waking up on time was a lifetime battle for Wake Up On Time fan "Carmela R." from Davie, Florida...that is until she started using Rise-N-Shine's Wake Up On Time. 
"I would wake up every morning so groggy nothing would get me out of bed. I'd just want to stay in bed all day," Carmela said.
"My sister told me about Wake Up On Time," she continued, "and she begged me to try it and boy am I glad she did. For the first time in my life I can say that I get out of bed the second my alarm clock goes off and I am not groggy!"  

Many people have reported back how Wake Up On Time has changed their lives and they have literally turned into "morning people overnight"...naturally! It's the first and only product of its kind that you take before bed to help you wake up feeling great! 
It's also the only product that has the fantastic side effects that may occur through the use of it...side benefits may include..."singing in the shower, a sunny outlook on life and getting to work on time."
People like Carmela who swear by Wake Up On Time call it "an alarm clock in a pill." Our patented formula doesn't disrupt sleep and won't prevent you from falling asleep because of the magic of time release. The delayed-release coating on every Wake Up On Time tablet holds back the ingredients until a person has slept about six to eight hours. 
Once the ingredients in Wake Up On Time are unleashed the premium energy blend of vitamins, herbs and amino acids work together to help wake you up on time! Vitamin B6, Vitamin B12 (and it's methyl B-12 - an active and most absorbable form of this vitamin), Guarana Seed Extract, Eleuthero Root Extract, L-Tyrosine and more. 
Fans of Wake Up On Time have called it "time in a bottle," since it's given them hours back to do the things each day that they love to do. They've also called Wake Up On Time a "replacement for the morning alarm clock" and the "greatest invention since coffee!"
Wake Up On Time is a natural, non-GMO and made in the USA product! It's available nationwide in Walmart stores. It's also available on Walmart.com, Walgreens.com, Jet.com, Amazon.com and the Rise-N-Shine website.
Click here to order Wake Up On Time from Rise-N-Shine today! 
---