Wake Up On Time Naturally for All the Holiday Season Has to Offer!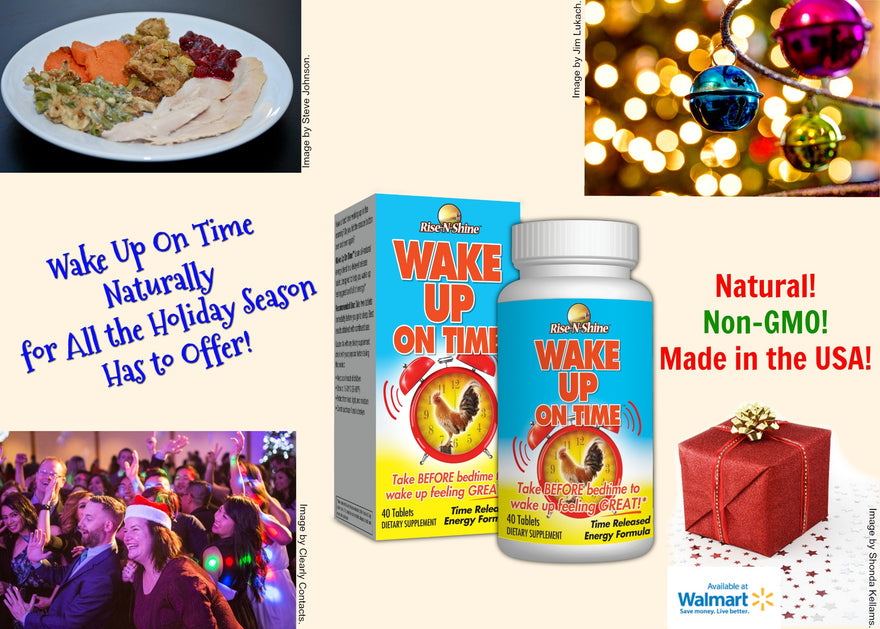 It's that time of year again when we are all consumed with the holiday hustle bustle - the food, the parties, the shopping, the year-end deadlines and more.
Rise-N-Shine's Wake Up On Time is here to help you to wake up on time naturally for all that the holiday season has to offer!
How can patented Wake Up On Time help? It's the first and only product of its kind taken before bed, to wake up feeling great! 
Wake Up On Time works with the magic of two elements: first the premium energy blend of vitamins, amino acids and herbs; and secondly, its time-delayed coating. Time-release delivers Vitamin B6, Vitamin B12, Guarana Seed Extract, L-Tyrosine, Eleuthero Root Extract and more during the last sleep cycle to help a person feel refreshed and ready to start the day when it matters most...when the alarm clock rings. 
Those who swear by Wake Up On Time have called it "time in a bottle," among accolades. That's because it has helped them to break that cycle of consistently hitting the snooze button and instead, waking up and having more time to enjoy each day. 
Others have called it an "alarm clock in a pill," the "greatest invention since coffee," a "replacement for the morning alarm clock," and a "miracle pill" that has turned them into "morning people overnight!"
 Wake Up On Time is natural, non-GMO and made in the USA. It's available in Walmart stores nationwide!
Click here to learn more about Wake Up On Time - take Wake Up On Time tonight for a better morning tomorrow!
---