Walmart a Leader in Vitamins, Minerals and Supplements 2017 Online Sales - Rise-N-Shine Products in Walmart and on Walmart.com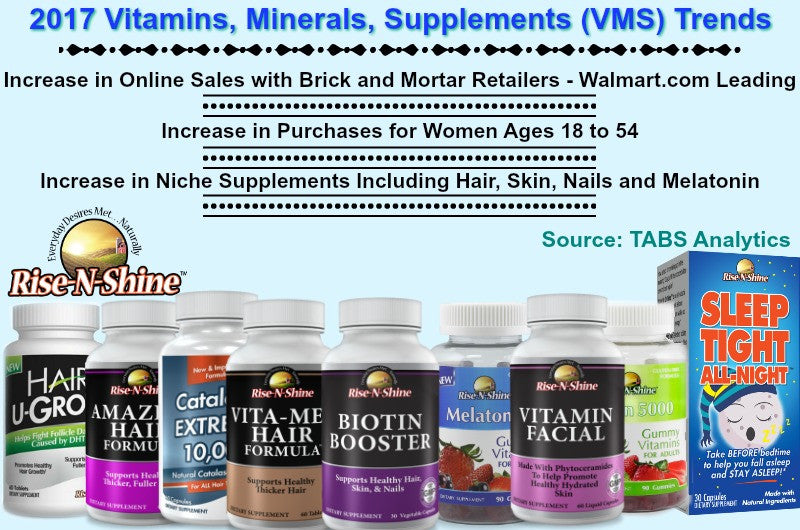 As one of the United States' largest retailers, Walmart was also a leader in cyberspace as one of the leading brick and mortar businesses with an online presence for vitamins, minerals and supplements.
Last year in the vitamins, minerals and supplements (VMS) category, TABS Analytics noted a 20 percent surge in VMS online sales between 2016 and 2017, jumping from $2 billion to $2.4 billion. Sales overall in the VMS category are $13.6 billion. 
Walmart.com's online sales account for 1.6 percent of all online transactions in the VMS category. This is TABS Analytics' 10th Vitamin, Minerals and Supplements Study, with Walmart's share helping VMS online sales to rank 17 percent overall for all online sales, for a 10-year-high for the VMS category.
Rise-N-Shine's natural, non-GMO and made in the USA products are available on Walmart.com, with Rise-N-Shine's Wake Up On Time in over 3,000 Walmart brick and mortar locations nationwide. Rise-N-Shine's Stay Up All-Day and Sleep Tight All-Night are also available in select Walmart stores. 
According to TABS Analytics report, Walmart experienced a 63 percent rise in online sales in the first quarter. 
The study also showed an increase in women in the 18 to 54 age group making purchases between 2016 and 2017. Hair, skin and nail supplements, plus melatonin, also experienced an increase in online purchases. 
---