Wash Your Gray Hair Away...Naturally!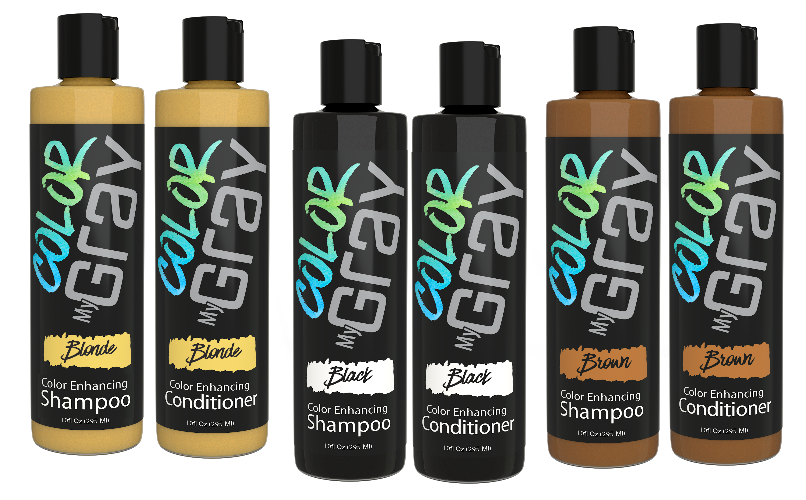 Kids turning your hair gray? This Mother's Day, why not treat yourself...or ask someone else to treat you...to your own salon in a bottle that can gently blend away your gray hair without the costly and time-consuming trips to the salon!
Color My Gray Shampoos and Conditioners are a mom's best friend! They help a busy mom to multitask and feel and look great at the same time!
That's because you don't have to step out of your door - we ship Color My Gray Shampoo and Color My Gray Conditioner right to you! From there, just shampoo and condition your hair! 
Unlike hair dyes, which can tax your health with chemicals, Color My Gray is not only easier - it's made in the USA with all natural ingredients - so it's more healthful for you and your hair!
Color My Gray works for you so you don't have to! What mom doesn't love life hacks? You're going to love this mom hack to combat unwanted gray hair! The color deposits in Color My Gray Shampoo and Conditioner are amazing gray hair hacks since they blend back in the look of your natural hair color as you shampoo and condition your hair! Wash and condition daily for more intensity...or use once weekly for a more subtle look!
Color My Gray comes in black, blonde and brown shades and even shampoo and conditioner color sets!
Unlike another bouquet that wilts by the next day, or a box of chocolates that's gobbled up before Mother's Day ends, tell hubby or the kids to treat you to a gift that keeps on giving!
Break up with gray hair and say hello to your new BFF, Color My Gray...today! Click on any of the links below (click on the product name) to order Color My Gray! And wash your gray hair away...naturally! Plus, don't forget our gift to you...moms save 20% now through Mother's Day! Use code MOM20 during checkout! Happy Mother's Day!
Color My Gray Color Enhancing Shampoo for Black Hair
Color My Gray Color Enhancing Conditioner for Black Hair
Color My Gray Color Enhancing Shampoo for Blonde Hair
Color My Gray Color Enhancing Conditioner for Blonde Hair
Color My Gray Combo Set Blonde 
Color My Gray Color Enhancing Shampoo for Brown Hair
Color My Gray Color Enhancing Conditioner for Brown Hair
---