We've Got Your Travel Schedules Covered Around the Clock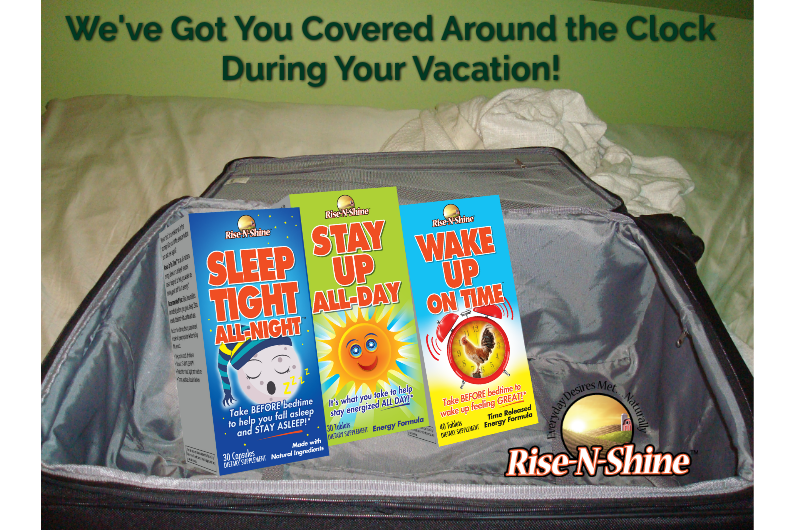 There's no need to fear jet lag, being low on energy or difficulties sleeping while you're on vacation this summer - Rise-N-Shine has got you covered around the clock with our all-natural energy and sleep formulas - Wake Up On Time, Stay Up All-Day and Sleep Tight All-Night. 
Fighting jet lag and issues waking up while you're away? Try Wake Up On Time, the first supplement of its kind that is taken BEFORE bedtime to give you energy when it matters the most...before the alarm clock rings! Our patented energy formula has a delayed-release coating to enable you to have a peaceful night's rest and then releases the combination of vitamins, herbs and amino acids when it's time to wake up in the morning! Those who swear by Wake Up On Time call it an "alarm clock in a pill," the "greatest invention since coffee," a "replacement for the morning alarm clock" and something that has turned them into a "morning person overnight!"
Need a boost during the day? Stay Up All-Day is a solution that's all natural and without the side effects that energy drinks can create! In fact, our three products were featured on a KCTV5 segment as safe food alternatives, with Stay Up All-Day talked about on "Better Kansas City" as a replacement to energy drinks! See the segment at the end of this post. 
 Difficulty sleeping? Sleep Tight All-Night is a natural and occasional alternative to help transition you to a good night's sleep. With Melatonin, Magnesium and Vitamin B6, plus hops flower, passionflower, chamomile flower and valerian root, Sleep Tight All-Night can ease you into sleep when the world of travel and hotel stays can make a good night's sleep challenging. 
Wake Up On Time is available in Walmart locations nationwide and Stay Up All-Day and Sleep Tight All-Night in select Walmart stores. The products are available with online retailers including Walmart.com, Amazon.com and our website. Click here to shop now. 
---