What Is Garcinia Cambogia?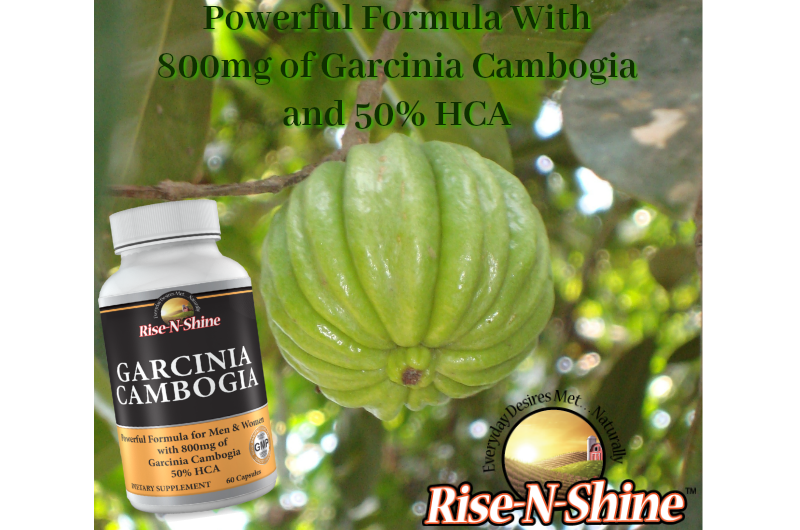 The best bet for weight loss is a healthy eating plan combined with exercise. Garcinia Cambogia, however, may help to support weight loss.
Garcinia Cambogia is a pumpkin-shaped fruit that is cultivated from Asian regions of the world. It may help to decrease appetite (it may increase serotonin, which decreases hunger), lower cholesterol and stabilize blood sugar. 
Rise-N-Shine's Garcinia Cambogia is made with 50 percent of hydroxycitric acid (HCA) which comes from the fruit's rind, or 800mg of Garcinia Cambogia Extract. 
There are often questions about Garcinia Cambogia online that nutritionists have provided some insights about in response. They note that Garcinia Cambogia should be the pure ingredient only and not a "blend." It should also contain at least 50 to 60 percent of HCA. Rise-N-Shine's Garcinia Cambogia has that minimum 50 percent HCA plus 136mg or 14 percent Calcium, which aids in absorption of the Garcinia Cambogia Extract. 
The recommended dose of Rise-N-Shine's Garcinia Cambogia is one capsule one to two times daily 30 to 60 minutes before a meal, or as directed by a healthcare professional. This product should also be used in conjunction with a sensible diet and exercise program. It is suitable for men or women, but those under the age of 18, those pregnant or nursing and those with a medical condition, should consult with their physician before use. If you have any questions about Garcinia Cambogia, it's important to speak to your physician before use. 
Click here to learn more about Rise-N-Shine's Garcinia Cambogia. All Rise-N-Shine products are all natural, non GMO, cruelty-free and made in the USA. 
---