"What U Talking Bout Willis?" Features Wake Up On Time and Hosts Product Giveaway Event!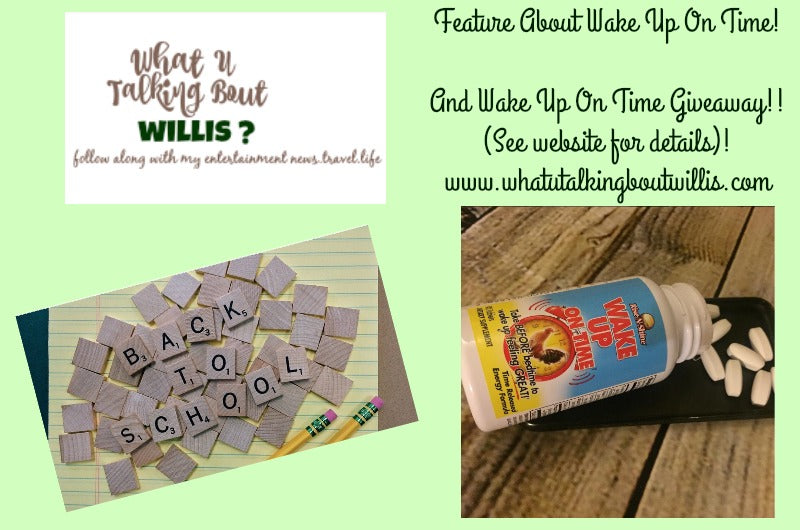 Imagine being a wife, mother, grandmother and blogger...many roles for one person to juggle...and then struggling to get out of bed each day, even when going to bed early.
This was the dilemma that Becky Willis, editor of the website "What U Talking Bout Willis?" was faced with day in and day out, struggling to get to sleep each night and then dragging herself out of bed every morning. 
Previously, she was able to stay up until 2 or 3 a.m. working on websites and then wake up at 8 a.m....but has found since she's closing in on her 49th birthday, she is exhausted by 10 or 11 p.m. and then her body fights the opportunity to sleep. 
Click to read Becky's full post here. And read what she has to say below about Wake Up On Time and how it's helped her!
"So what could it hurt to try Wake Up on Time from Rise-N-Shine? Nothing I decided.  I have been using this product for over a week as I wanted to make sure my physician was ok with me taking it with some other medications I was taking and she agreed it was ok to try.  I have been waking up feeling refreshed even if I struggle to get to sleep at night. So I approve!"
And here's what Becky discovered about patented Wake Up On Time...
Wake Up On Time is the first and only product of its kind taken before bed to help you wake up feeling great! It contains the highest-quality, natural ingredients and is non-GMO and made in the USA! Wake Up On Time is available for purchase at Walmart stores nationwide and on Walmart.com, Walgreens.com, Amazon.com, Jet.com and on Rise-N-Shine's website. 
Wake Up On Time works with the magic of time release! It won't interrupt your sleep because the delayed-release coating on every Wake Up On Time tablet holds back the blend of vitamins, amino acids and herbs until it's time to "rise and shine"...when the alarm clock rings!
Wake Up On Time contains Vitamin B6, B12 (the Methyl B12 variety that is best absorbed by the body), Guarana Seed Extract, Eleuthero Root Extract and more!
Wake Up On Time is great for college students starting back to school, parents who need to return to the back-to-school routine, teachers who are entering back into the school year, frequent travelers and anyone else who may need help with waking up on time!
We're so glad that Wake Up On Time has helped to make waking up in the mornings easier for you Becky!
"What U Talking Bout Willis?" is running a giveaway for 3 (three) bottles of Wake Up On Time to one lucky winner! Click here to enter. Contest is open to those ages 18 and up, valid in the U.S. only, through Thursday, September 7, 2017 at 11:59 p.m. see the website for full details. 
"What U Talking Bout Willis?" readers can also enjoy a free bottle of Wake Up On Time with any purchase from the Rise-N-Shine website. Use code Willis at checkout on the Rise-N-Shine website, through September 15, 2017. Click here to shop now on Rise-N-Shine's website! 
---